Chicago barber creates space for community
Friday, February 28, 2020
As a kid, Bobby Price never enjoyed his visits to his neighborhood barbershop, so it makes sense that it never occurred to him to open his own barbershop until much later in life. Even though Bobby has been cutting hair since he was 13, he didn't become a full-time barber until he became a husband and a father.
Bobby has always been an artist, but he started his career as a professional waiter working in upscale restaurants and clubs throughout Chicago. When Bobby's wife was expecting their son, a friend encouraged him to explore a new career path and take a class to learn how to barber professionally. It was during this class that Bobby fell in love with the art of barbering and came to really respect the craft and the profession.
After graduating with a barber license in hand, he set off on his new career path, still with no plan to open his own business. For years, he worked hard and built up a loyal customer base working at unique barbershops around the city. But eventually Bobby started to feel limited by the brands he was working for.
He explains, "I wanted to open a barbershop that I would have actually wanted to go to growing up as a kid."
Luckily, Bobby's pastor was connected with angel investors at the time who were looking to help local businesses get off the ground. It was important to Bobby that he open his business in North Lawndale where he grew up, and this was the perfect opportunity to do just that.
So in 2018 Bobby opened up Principle Barbers, which serves not only as a barbershop, but as a much-needed community space. The shop is equipped with a stage and sound system so he can host musical acts, speakers and more. Spending time in his community, he realized there were not many activities for adults and families to attend in the evenings. By creating this space, he hopes to change that.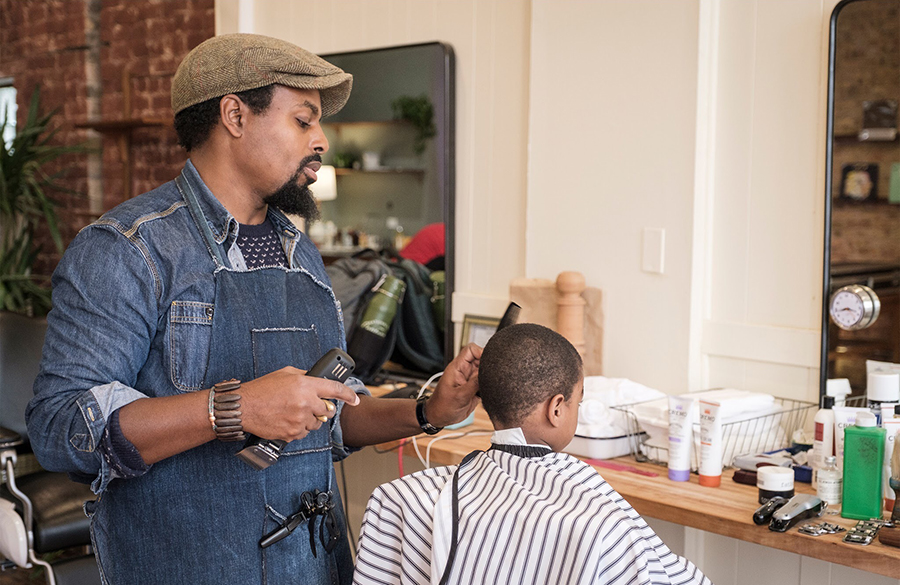 This space is important to have in the community because as Bobby explains, many businesses have been hesitant to start or expand in a lower-income neighborhood.
"It can be difficult to open a business in an underserved community without a lot of disposable income. However, that doesn't mean the community doesn't deserve your services and your expertise."
But, Bobby is lucky—being funded primarily by angel investors allows Bobby more time and space to build the business he's dreamed of without the strings attached to traditional lending.
Bobby loves that he is able to bring something new to his neighborhood. He explains, "My idea is to blend the lines between communities that are underserved and create a space where outsiders feel comfortable so they can see what the community really has to offer."
Bobby didn't originally become a barber to open his own shop, but now he wouldn't have it any other way. To his fellow black entrepreneurs, he says, "Stick it through and ask for help. A lot of folks don't ask for help. You have to have help and you need to be open to advice and ideas."