California small business owner depends on harvest season to make "community condiment"
Tuesday, October 22, 2019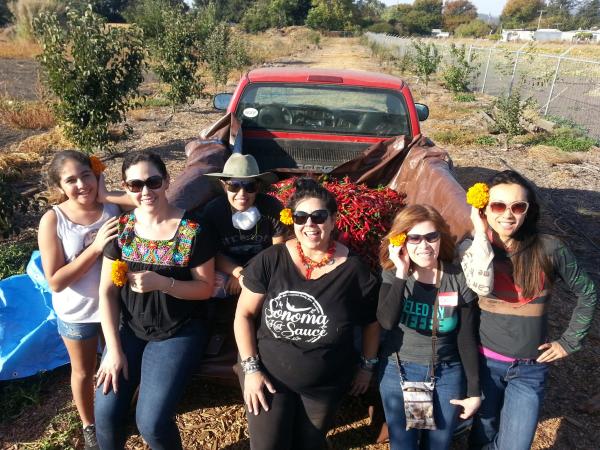 While many of us are heading to pumpkin patches and apple orchards this month, Deb Ramirez Rock, owner of Sonoma Hot Sauce in Sonoma County, Calif., is encouraging her community to go pepper picking instead at her fourth annual harvest party.
"I'm an advocate for peppers over pumpkins," Deb proclaims.
Harvest parties are a popular tradition in Sonoma County at this time of year and are one of the many reasons why Deb decided to base her business in Sonoma five years ago.
Deb's journey to entrepreneurship originated in Seattle, where she became passionate about gardening and started making hot sauce for friends and family 20 years ago. She started as most home gardeners do: by growing organic peppers and heirloom tomatoes in her own backyard. When it came time to harvest, she found she didn't know what to do with her bounty. For inspiration, Deb's sister gifted her a book on how to make hot sauce, and that was the only spark Deb needed to start setting mouths on fire.
It was also in Seattle where Deb became committed to giving back to her community through gardening. For 15 years she dedicated every Tuesday night to sustaining her local community garden and growing its impact. She conducted outreach to get people involved so the garden could yield a whopping 5,000 pounds of produce yearly for the local food bank.
Fast forward to 2014 when Deb first visited Sonoma County and quickly discovered Northern California was the place she wanted to make and sell her hot sauce. She realized that if she put in as much time and effort into her hot sauce as she did with her community gardening, she could have a really successful business. Sonoma County also has the perfect climate for pepper growing, and she felt she really connected with the community, which was more ethnically diverse than Seattle.
She explains, "In wine country, I found that there were way more people that looked like me and I felt like I really fit in as a Latina entrepreneur."
Once Deb moved to Northern California, she started taking business classes at the local junior college where she met valuable mentors who encouraged her to develop her business further. After five years of planting roots and seeds in Sonoma County, she was finally ready to bring her hot sauce to market.
Along the way, Deb found it was really important that she continue to engage with her community as she had in Seattle, which is why her annual harvest party is so special to her.
"I try to bring my community together for my harvest parties, and we always have such a good time," Deb explains. "We have people of all ages in the field harvesting peppers, and at the end of the day, we all stand around the table laughing and telling stories."
She calls Sonoma Hot Sauce a "community condiment" because her hot sauce is 100% Sonoma sourced, so all of her profits and all of the wages paid go directly back into her local economy. Deb also encourages her neighbors to grow peppers in their own gardens to create economic opportunity and to decentralize the growing process.
Deb has a real passion for both her community and her hot sauce, which makes her the perfect saleswoman. Her product is sugar and water-free and contains no fillers or dried spices, making it a unique addition to supermarket shelves. Her customers agree: She has successfully gotten her hot sauce placed in ten supermarkets across the country and also sells online.
"My goal is to have a product that is selling while I'm sleeping," says Deb.
She finds that despite the difficult times, entrepreneurship is incredibly empowering, and she sees every obstacle as a learning experience.
She advises her fellow Latina small business owners to "Be bold. Ignorance on fire is better than intelligence on ice. Don't be afraid to pave your own path because no one can show you or tell you how to do it. Just do one thing every day for your business, and most importantly, never ever give up."