Brewing Senate fight over ACA repeal worries co-owner of Collective Avenue Coffee
Tuesday, May 30, 2017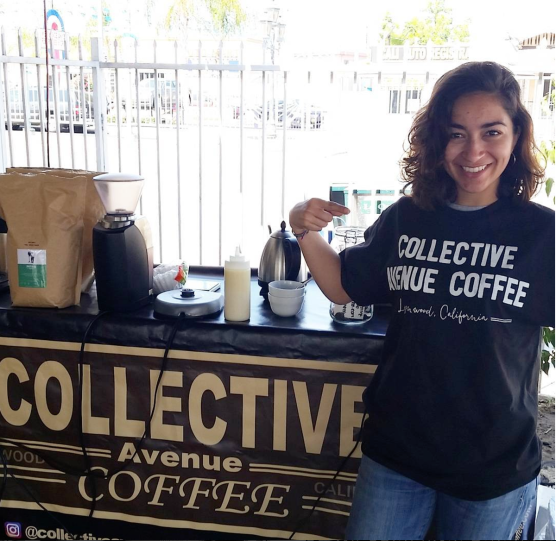 In this economy it's a notable accomplishment to secure a well-paying, full time job with benefits in your early twenties. But it's perhaps even more impressive to leave the security of such a position to pursue a dream of becoming a business owner. That's exactly what Kateri Gutierrez did when she opened her mobile coffee shop, Collective Avenue Coffee, in the fall of 2015. However, when Kateri answered her call to entrepreneurship, it came at a price; it meant leaving behind her employer-sponsored health coverage.
Since leaving her job, Kateri decided to forego purchasing health insurance on her own—a seemingly low-risk option, as she's a healthy 24-year-old. However, she became ill while uninsured and had to pay for her healthcare costs out of pocket, which ultimately delayed getting her business off the ground.
Kateri and her business partner opened their pop-up café more than a year ago, but because they're working to acquire a more permanent space, both are still employed full time at positions that don't offer health coverage. But thanks to the ACA's expansion of Medicaid, Kateri was able to enroll in Medi-Cal, the state's Medicaid program, earlier this year. Now she's able to receive the preventative care she needs at a reasonable cost. But she fears that if the Affordable Care Act is repealed, or if there is a rollback of Medicaid, losing her health coverage will most likely prevent them from growing their business.
"The ACA has removed the worry that comes with not having health insurance, and gives me peace of mind," she says. "If something should happen to me, I know I will be covered and won't risk losing my business because of exorbitant healthcare expenses."
Kateri's not alone in fearing efforts to repeal the healthcare law—in fact, our scientific opinion polling found nearly 6 in 10 small businesses owners support the ACA, and prefer it to the replacement plan by 2:1.
When Kateri set out to start Collective Avenue Coffee, her goal was to give back and serve as an inspiration for youth in underserved communities like the one she grew up in. But if the ACA is repealed, unaffordable healthcare will serve as yet another barrier for potential entrepreneurs who are minorities or live in low-income areas. Many aspiring business owners simply won't have the luxury of leaving their jobs with employer-sponsored coverage, like Kateri did.
Kateri says, "Thanks to the ACA, people like me no longer have to choose between health insurance and pursuing their dreams. That's why I urge Senate lawmakers to listen to entrepreneurs like me and drop efforts to repeal the healthcare law."
Kateri joins countless business owners around the country who are actively campaigning for Congress to uphold the ACA, and you can help. Stand with other small businesses by signing our "Small Biz Say Keep Our Care" pledge.