Robert Bennett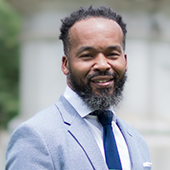 Small Business Engagement Director
Robert Bennett oversees the process of building and fostering relationships with small business owners, business organizations, and advocacy groups with a particular focus on cultivating spokesperson engagement activities for the Small Business Majority spokesperson program. He also manages the National Small Business Council, a grassroots leadership program that offers significant contributions to Small Business Majority's work.
Before joining Small Business Majority, Robert worked with various national nonprofit organizations such as the National Homelessness Law Center and the ALS Association, where he was responsible for diversifying revenue programs and strengthening existing corporate partnerships. Most recently, Robert served as Business Operations Specialist with the Society for Human Resource Management, a professional association dedicated to empowering people and workplaces by advancing HR practices and by maximizing human potential.
Robert serves as a member of Small Business Majority's DEI Council.
Use this form to contact Robert: