Alexis D'Amato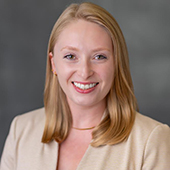 Government Affairs Director
Alexis manages Small Business Majority's government affairs work through the organization's relationships on Capitol Hill, the Biden-Harris administration, federal agencies and the White House. Alexis ensures Small Business Majority's national network of entrepreneurs and partner organizations stay up to date and actively involved in all relevant federal affairs developments, including legislative and regulatory developments as well as coalition engagement, to achieve the organization's federal policy goals. Through her work, Alexis advocates for the voices of Main Street America and the organizations that support them through the federal policymaking process.
Prior to joining Small Business Majority, Alexis served as the Director of Government Affairs at Prism Group, a bi-partisan government affairs firm located in Washington, D.C., where she managed and oversaw the government affairs and policy activity for clients in the small business, entrepreneurship and procurement portfolio.
Alexis is a graduate of the George Washington University with a Master of Arts in Political Science. She is a member of the Phi Beta Kappa Society, Women in Government Relations and the Birmingham-Southern College Young Alumni Council.
Use this form to contact Alexis: