"Unleashing Potential: Supporting Women's Entrepreneurship" Launch Event Recap
Thursday, August 16, 2018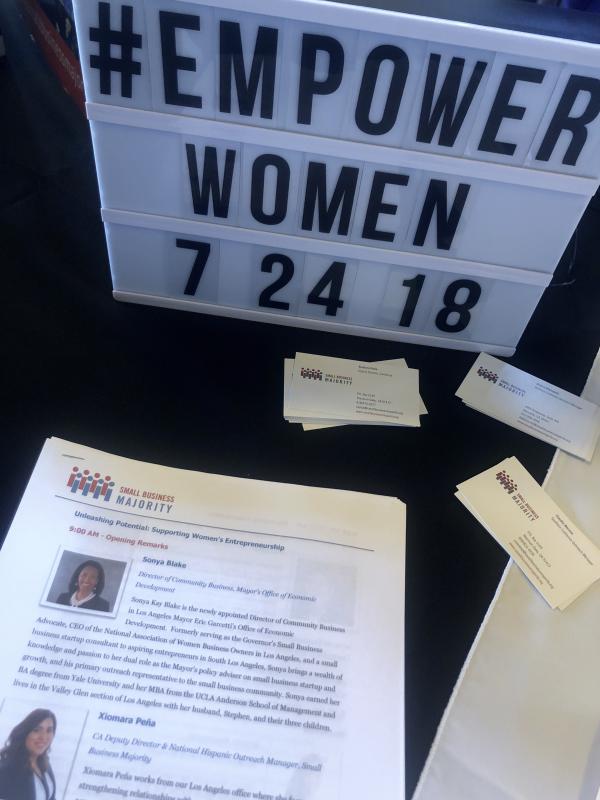 On July 24, Small Business Majority launched its new Women's Entrepreneurship Program in Los Angeles, a special initiative offering tools and resources for female entrepreneurs to succeed. Women—especially women of color—are one of the fastest-growing segments of our economy, but they continue to be at a disadvantage in critical business indicators. The Women's Entrepreneurship Program will help local women entrepreneurs gain the resources they need to start and grow their companies. Read on for a recap of our program kick off to learn more about the program.
We launched the program at an event titled, "Unleashing Potential: Supporting Women's Entrepreneurship" at LA City Hall. More than 50 women entrepreneurs attended the event, which featured presentations and panel discussions highlighting resources for female business owners on topics like mentoring and access to capital. Eleven organizations from across LA participated in the event, including business assistance providers, lenders and city officials.
The event began with opening remarks from Sonya Blake, Director of Community Business at the LA Mayor's Office of Economic Development. Sonya talked about the goals the city has set to promote economic development in underserved communities and how supporting women entrepreneurs is a key way to achieve these goals. Sonya noted, "The Women's Entrepreneurship Program is an important program to uplift women entrepreneurs and grow businesses that are good for our local communities. We look forward to working with Small Business Majority to empower female entrepreneurs throughout LA."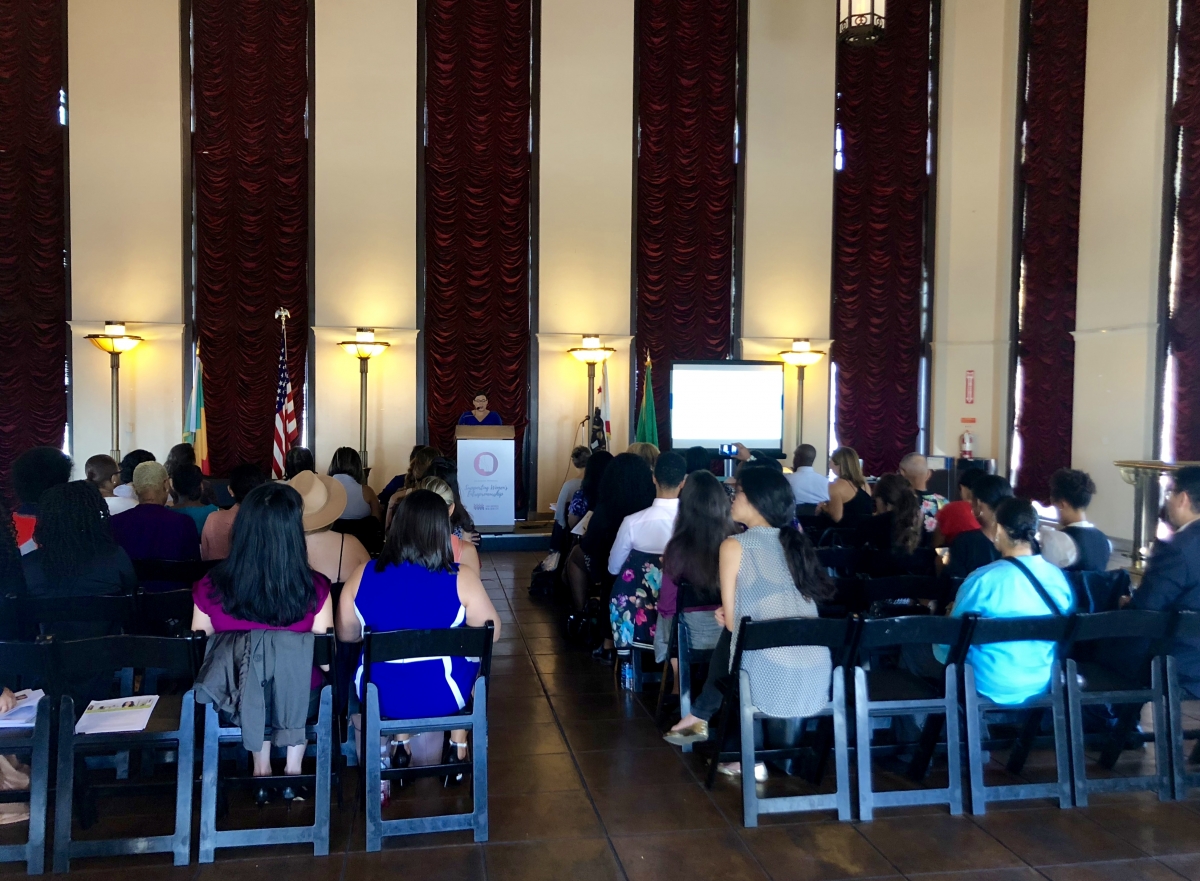 Next, Small Business Majority's California Deputy Director Xiomara Peña and Gail Lara, Program Director of the Women's Collaborative Mentoring Program, presented on the importance of mentorship for female entrepreneurs and provided information on mentorship opportunities available through SCORE. This presentation was followed by a panel on "Accessing Technical Assistance." Representatives from local resource providers including FreeFrom, Small Business Development Center—East Los Angeles Initiative, VEDC, CDC Small Business Finance and Wadeco Capital answered questions on what resources their organizations provide, how they tailor advice to women, how women small business owners can take advantage of procurement opportunities and other topics.
Xiomara then presented Small Business Majority's small business lending resource, Venturize.org. A representative from Energy Upgrade California also gave on overview of how they can help small business owners benefit through energy savings and increased sustainability.
After the discussing these specific resources available to small business owners, the conversation turned to funding sources for female entrepreneurs. Another panel, titled "Traditional and Alternative Capital Sources," explored sources of funding beyond traditional bank loans. The panel featured representatives from Camino Financial, CDC Small Business Finance, Crowdfund Better, Opportunity Fund and The 22 Fund and topics included what funding products exist, what a community development financial institution (CDFI) is, how to utilize crowdfunding and what type of capital is best for your business. This information was tailored for the female audience, with panelists addressing trends like women entrepreneurs' reluctance to use debt funding to grow their business. We also discussed how small business owners can protect themselves from predatory lenders by using the Small Business Borrowers' Bill of Rights to identify responsible lenders and safe loan products.
To wrap up the event, Small Business Majority let the attendees take the mic to share a story or piece of advice for fellow women entrepreneurs. One woman talked about how she connected to business assistance providers at another event and how this led to a crowdfunding campaign and a loan from CDC that helped her grow her business. She encouraged other women business owners to network and start these conversations that can lead to tools, resources and even funding down the road. Another attendee thanked Small Business Majority for creating the Women's Entrepreneurship Program, noting how important it was for female entrepreneurs to have these resources in one easily navigable place. Attendees were eager to continue the conversation at future events and expand to other neighborhoods like South LA.
In the coming months, Small Business Majority will expand on the success of this launch event with more events in Southern California and by providing more online resources through our online Entrepreneurship Program portal. Stay tuned for more!