The sweet southern belles of Southern Girl Desserts
Friday, May 1, 2015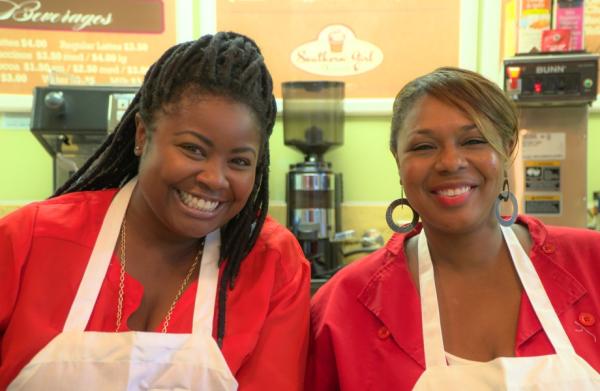 Southern Girl Desserts co-owners
Catarah Coleman and Shoneji Robison
Any true Southerner will tell you that, when it comes to cooking, it's all about the heart. There's no need for those fancy, highfalutin culinary degrees when you've got decades of tradition and a little splash of love in the kitchen. That down-home, fuzzy-warm style of baking is exactly what Catarah Coleman and Shoneji Robison brought with them from the South to the mean streets of urban Los Angeles.
You can take the girl out of the South, but you can't take the Southern cravings out of the girl, and Los Angeles was a veritable wasteland when it came to finding the inimitable delicacies of the South. This prompted Coleman to take matters into her own hands with Southern Girl Desserts.
"Southern Girl Desserts started out of my home back in 2007 as a way to satisfy my craving for southern favorites such as banana pudding and sweet potato pie," Coleman recalled.
In early 2008, Shoneji Robison joined Coleman as a business partner, bringing an extensive list of celebrity contacts in Los Angeles from her proven background in baking and decorating. Together, these two dubbed themselves the Dessert Divas.
As for the inspiration behind Southern Girl Desserts, Coleman points out three goals that define their business.
"The first was a way to build generational wealth for my children and grandchildren to come. The [second] was to give the West Coast a taste of true Southern baking, and the third was to offer Southern hospitality in a world where customer service, in my opinion, was lacking."
Lending credibility to this Southern way of operating and the techniques they employ at their bakeshop is the fact that both Coleman and Robison come from families with strong backgrounds in baking and cooking.
"We always tell people we received our baking education from grandma's kitchen and the experience we've gained from mistakes made over the course of the last eight years," Robison said.
Starting out just as the cupcake craze was sweeping the nation, the market was fairly open for a Southern twist on desserts.
"We had a niche that only two Southern girls could satisfy," Coleman said. "The fact that we were in Los Angeles baking unique Southern treats created a demand. We didn't create a menu based off of trends, but based off of tradition."
After all, what other Angelino baker would offer a handmade sweet potato cupcake on their menu? None, which is probably why it's Southern Girl Desserts' most popular treat. In fact, all of their menu items start from their favorite foods, and from there, they test the unsuspecting Los Angeles market with some baked Southern charm to decide what stays and what goes.
To pay homage to their families and to truly embrace their Southern roots and heritage, Coleman and Shoneji name all of their desserts after a family member or a popular Southern term.
"The freedom to be creative and share our story through our desserts," Coleman said, is one of her favorite parts of owning a business like Southern Girl Desserts.
Bottom line: Hollywood needs to watch out, because the Dessert Divas are baking goods and taking names.