Sleepless in Cincinnati: Entrepreneur is always on call to get the job done
Friday, February 23, 2018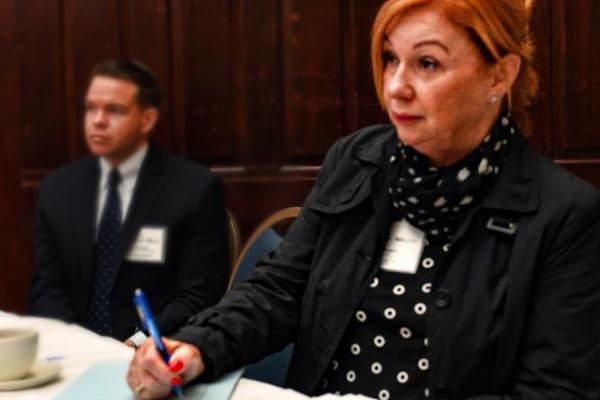 Small business owner Lynn Meyers is available 24 hours a day, seven days a week to ensure critical packages are delivered on time.
"In this business, it's important to be able to sleep standing up," said Lynn.
Lynn is the owner of Cincinnati, Ohio-based United Courier Inc.—a delivery service that attends to the time-sensitive needs of its clients. A self-proclaimed "chronic entrepreneur," Lynn has been in the business of creating small firms since 1986 and settled into her current role in 2006.
Today, United Courier works with some of the biggest companies in Cincinnati and can serve as many as eight surrounding states depending on their clients' needs. Lynn described her services as similar in structure to the ride-sharing application Uber: United Courier acts as a liaison between the client and the drivers fulfilling the orders. Lynn's clients, which tend to be in the medical or corporate fields, turn to her for their immediate shipping needs. She then utilizes her network of independently contracted drivers to get items where they need to go as quickly as possible.
"We aren't in the people-moving business; we are in the package-moving business," said Lynn.
The sensitive nature of the products the company ships, like blood bags, lab results and tax documents, requires United Courier to be available at all hours—which is thrilling for an ambitious small business owner like Lynn.
"It doesn't bother me getting a phone call at two in the morning," she said. "The business is exciting, and it's a constant rush."
Lynn explained that the transportation industry, specifically same-day and time-sensitive deliveries, comes with its own set of challenges. In the face of harsh weather, difficult road conditions and the pressure of the clock, this small business owner relies heavily on her team to get the job done each and every day.
"The company is an all hands on deck situation all the time," said Lynn. "If I have to go out and do deliveries myself, I will—it's called being an owner."
Despite the demands of her job, retirement does not seem to be on the horizon for this serial entrepreneur. Lynn is perfectly content with that.
"I like being the boss," she said.