Rural veterinary hospital thrives despite challenging hiring market
Wednesday, December 18, 2019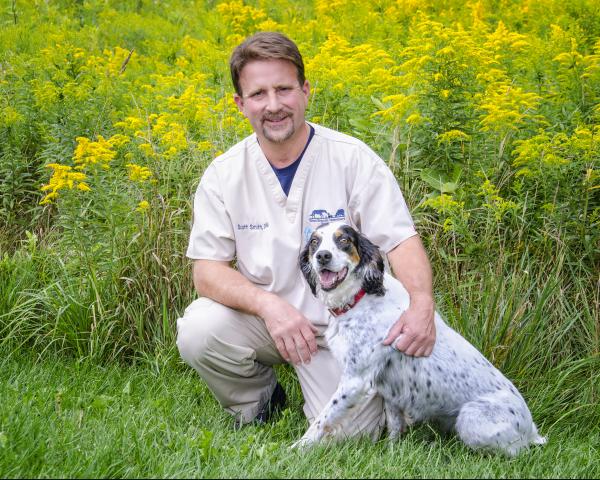 West Branch Veterinary Services in West Branch, Mich. was the winner of our 2019 Small Business Saturday photo contest.
For over 40 years, patients of all shapes and sizes have been greeted with warm smiles, friendly scratches and yummy treats at West Branch Veterinary Services. Dr. Timothy Eyth first opened the hospital's doors in 1976 with the hopes of providing exemplary care and comfort for pets and pet parents alike. Current owner Dr. Scott Smith, who acquired the practice in 2009, has worked tirelessly every day since to continue his legacy with great success. The 15-employee hospital serves a massive region due to the fact they are in a rural area that caters to both year-round residents and vacationers who come with their pets to enjoy the outdoors. 
"We strive to treat everyone fairly and with compassion as we would hope we or our loved ones would be treated in similar situations," says Dr. Smith.
The community Dr. Smith and previous veterinarians have fostered not only makes patients feel at home but has also made employees passionate about coming to work each day. West Branch employee Tina Agge says, "This is far and away the best job I've had. This is the job I want to retire from."
In her nearly 25 years at the hospital, Tina has moved up the ranks from Kennel Attendant to Practice Manager, coordinating all HR, payroll and recruitment, which has proven to be a difficult endeavor due to a nationwide shortage of trained veterinarians. 
As a rural small business, Dr. Smith and Tina have especially struggled to find trained veterinarians in their area. Over the years, West Branch has been forced to limit its services to small and household animals because it doesn't have enough veterinarians on staff and has had to cancel their emergency service program. However, Dr. Smith and Tina are working together to remedy this by recruiting directly from Michigan State University. The clinic welcomes students each year to participate in a three-week preceptorship, during which aspiring veterinarians do work on-site at the clinic that's related to the courses they're taking at the university. It's through interactive efforts like this that they met their newest hire, a veterinary student who is set to graduate and start working full time in 2021. 
Although veterinarians are hard to find everywhere, the hospital is thriving with the two it does have on board and thanks to its support staff. Since Dr. Smith took over the practice, he has worked to lengthen the hospital's hours in order to accommodate more patients while in turn expanding the benefits offered to employees by providing healthcare, a 401(k) and more paid time off.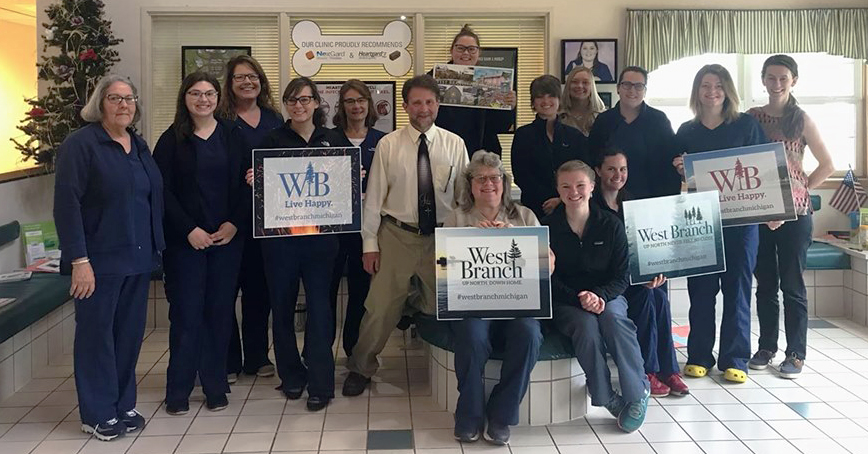 Part of creating a nurturing work environment is making time for team bonding. This year, the West Branch staff are looking forward to celebrating the holidays together at their annual Christmas party when Dr. Eyth and his wife return to the practice for a night of games, laughter and gift exchanging. 
Tina concludes, "We have a tremendous owner and supportive workplace. I can see what a huge difference that makes to our team in the day to day running of the practice, as well as in everyone's overall happiness." 
Connect with West Branch Veterinary Services on Facebook and Twitter.