A personal approach keeps Brooklyn business open for more than 10 years
Wednesday, November 20, 2019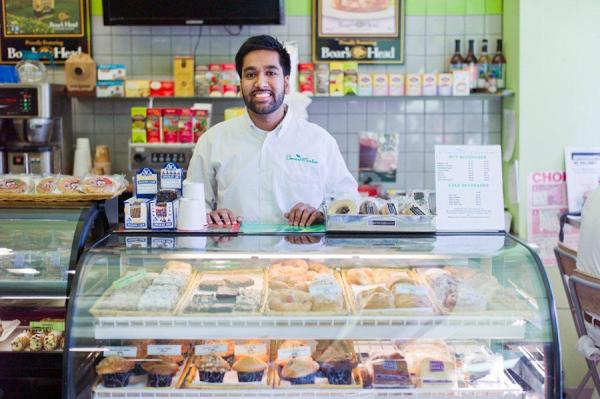 Since opening his market 10 years ago, Alap Vora is proud to say 80% of his employees from his opening day are still working for him, and his business boasts an overall employee retention rate of more than 70%. These numbers are virtually unheard of for hourly-wage jobs in Brooklyn, N.Y., but Alap's personal approach to business may have something to do with it.
Alap says, "You are only as good as your team, and I am really fortunate to have a great team that makes me look good." He goes on to explain, "When you have a steady staff and a reliable team, you are able to grow your business."
Everything about Concord Market is personal to Alap, who grew up in the neighborhood where he runs his business. After graduating from George Washington University, Alap decided to join the family business. His family has been opening and running different types of small businesses in New York City for nearly 50 years.
He explains, "Some people have a clear idea about what their business will be, but my family always preferred to look at the specific needs of the community and fill gaps in the market where we saw them."
Alap noticed local delis, markets and catering businesses disappearing from his community. Yet, his neighbors were desperate for a place to buy milk or pick up a quick sandwich, and so Concord Market was born.
Alap likes to view his employees as an extension of his family. He believes that when an employee is happy in their personal life they are able to better focus on their work. Alap has always made a point to get to know his employees, give them paid time off, and although he's not able to offer healthcare coverage, he has been known to pay out of pocket for his workers' healthcare expenses.
This kind of personal attention also extends to his community. Alap's goal for his business is longevity, and he prides himself on consistency and reliability. In its 10 years of business, Concord Market has never missed a day of service: It has stayed open through holidays, snowstorms and hurricanes. However, Alap is finding it more and more difficult to compete with big grocery stores that offer food delivery services. The fees and taxes for delivery apps are too expensive for his small business to afford without greatly increasing their prices.
"You can only charge so much for milk or a coffee. We can't charge $15 for a sandwich. Well, we can, but that's not what we're about," explains Alap.
He makes up for not using delivery apps by keeping it local. He offers delivery to his surrounding area and gets involved in local events, for example, by donating pumpkins to carving parties around Halloween and sponsoring neighborhood basketball tournaments to encourage his neighbors to shop locally.
He says, "People love to have a local market to go to. We're lucky that after 10 years of business, people are still coming to us and are still supporting us."
Connect with Concord Market on Facebook, Instagram and Twitter.