The Pancoasts are pizza's paladins
Friday, January 30, 2015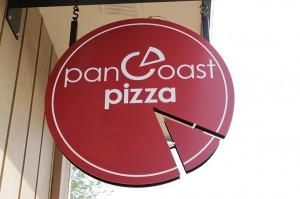 While your typical person may spot a nail salon and think of manis and pedis, Robert Pancoast and Julie Tobias-Pancoast thought of pizza.
The two spent four months planning and constructing in order to transform a derelict nail salon in Walnut Creek, CA into Pancoast Pizza, a pizzeria promising to bring a slice of the East Coast to Californians.
Robert and Julie are a husband and wife duo who come from culinary backgrounds and met while attending the Western Culinary Institute in Portland. Robert had been doing construction since the recession, and they capitalized on his skills to makeover a salon for lease into their own pizzeria.
"We are both professional chefs that opened several restaurants so we had some experience under our belts," Julie Tobias-Pancoast said.
The Pancoasts always had aspirations to open their own restaurant, and one in particular had experience working with Italian pies.
"My husband grew up working at his local pizza shop in the suburbs of Philly. He always enjoyed making it. We always wanted to open a restaurant but knew a full-serve, high variety menu would be insane, [so we're] keeping it simple," she said.
Beyond lifelong dreams and professional training, Pancoast isn't shy about listing another crucial reason why Pancoast Pizza's conception was vital.
"We knew there was a market [for Pancoast Pizza] because we stopped eating pizza out around here because it was a disgrace to pizza."
Thems fighting words, and with talk like that, the Pancoasts had to really deliver when it came to the slices they were whipping up. Luckily, with two professional chefs at the helm and consultation from 40-year culinary veteran Robert Mott, Pancoast Pizza crafted a truly enticing, and most importantly, delicious menu.
"Our pizzas are baked in a real oven, not run through a conveyor belt oven, stretched by hand and hand-tossed, and our sauce is prepared in-house daily," she said.
Some of those top-notch, specialty pizzas that fly out of ovens into the mouths of customers include the White Cap, a popular slice with a garlic sauce base and topped with smoked chicken, spinach and bacon, and the Esquared, a robust offering topped with both Italian meatballs and sweet Italian sausage.
Doing pizza her own way and being in the pilot's seat are some of the many perks of operating her own pizzeria for Pancoast. Coming from the women who put her local pizza offerings to shame, it should be no surprise that her favorite part of being a business owner is "controlling the product and image, and not deferring to anyone."
With their sights set on expanding to four more locations in the future, the Pancoasts are out to save us all, one slice at a time.