Meet our Outreach Team – Jessica Anguiano
Wednesday, October 12, 2022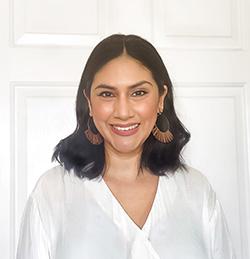 Small Business Majority's Outreach Team advocates for entrepreneurs on two fronts: It supports policies that benefit small firms, and it offers workshops and events that help small business owners grow their companies. We have found this work to be even more important, as small businesses recover from the ongoing global health and economic crisis.
This week we are spotlighting Jessica Anguiano, Small Business Majority's new Southern California Outreach Manager, to let small business owners know how our team members can assist them.
Could you tell us about your position at Small Business Majority?
My role at Small Business Majority is to develop relationships with business partners, small business owners, and community leaders to promote economic change in Southern California.
Can you tell me a little bit about your background? What were you doing before you came to Small Business Majority?
Before Small Business Majority, I served as the Coronavirus Aid, Relief, and Economic Security (CARES) Project Director for two Women's Business Centers, directing the day-to-day operations and overseeing CARES portfolios. In these roles, I supported entrepreneurs with general business navigation throughout the pandemic, anything from transitioning to social media, applying to grants, to developing marketing tactics to grow their businesses.
I also worked behind the scenes in big chain retailers, leading visual merchandising efforts, assisting with remodeling stores, analyzing consumer behavior reports, and working with vendors overseas. With a master's degree in International Business and marketing background, I have also taught college-level business and consumer behavior courses.
Small Business Majority is an organization that fosters growth for small business owners. I wanted to be a part of an organization that could make a difference in a small business owner's journey.
Tell us about how your work in California has been altered by the pandemic.
The COVID-19 pandemic shook Main Street to its core, but it also brought small businesses together. Entrepreneurs have become more flexible and creative about doing business, which has led to innovation in the small business ecosystem. Although I enjoy in-person interactions with business owners, this new push toward living and working in a more digital landscape has allowed me and our team to reach more businesses across the country.
How do you work to support small businesses in your local community?
As an Outreach Manager, the most important thing is to listen to small business owners and learn about the challenges they're facing. I ask myself, how can I support them to address these issues? Then, I meet with business partners and key stakeholders to find solutions.
What is your favorite part about working at Small Business Majority so far?
As a child, I always wanted a role where I could make a difference in a person's life. That dream has become a reality now that I work at Small Business Majority. I have the opportunity to make a difference for small business owners by providing them with the tools they need to overcome obstacles, resources to make their American dream a reality, and support to help build wealth for their families.
What have you learned in your first few weeks that you wish you could tell all small business owners?
My go-to advice for business owners is to network and ask for help. Sometimes, all it takes is for you to meet that one person who has an answer that can help you build an empire.
What goals do you hope to accomplish in your first year at Small Business Majority?
My goal for every business owner I connect with is to provide them with new ideas, solutions, and different perspectives to help them grow and sustain their small businesses. When diversity is included, it can create a more significant impact.