Looking for a health-conscious bakery? Let's talk about The Squirrel & The Bee
Friday, May 15, 2015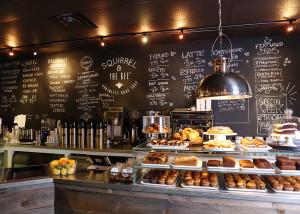 For a professional baker, nothing could be worse than discovering the thing you love the most is detrimental to your health. But that's what bake lover Michelle Retik began to realize when she was diagnosed with Ulcerative Colitis.
While researching her condition, Retik learned grain, sugar and dairy could be inflammatory to her immune system – a living nightmare for a baker who relies on these staples everyday. Rather than let her condition set back her health and her career, Retik set out to tweak her lifestyle so she could still bake with the best of them and open a business that would help others facing her condition.
The Squirrel & The Bee, a grain-less bake shop based in Short Hills, NJ, is Retik's defiant stance against the baking ingredients that have done her, and many like her, wrong. After an immediate turnaround in health from removing grain, refined sugar and dairy from her diet, Retik returned to her "happy place" in the kitchen and got cooking.
"I went back into the kitchen determined to make new foods that I loved and were also good for me, " Retik recalled. "I knew I could create a place that would provide delicious, healthy and safe foods for all of us."
As a former baker at a top-tier bakery in New York City and a pastry chef in New Jersey, Retik had ample baking chops to lead a bakery of her own. Without typical baking ingredients at her disposal, Retik fell back on nuts and local honey for her baked goods and used them as inspiration for her shop's namesake. Still, The Squirrel & The Bee is a bit of a hard sell as a bakery.
"Because we are not a typical bakery, I knew from the beginning that we would have to work very hard to explain to customers what we are all about and why they should want to eat what we are offering," she said.
Retik trains each of her employees about the different diets her business supports and which ingredients can and can't be used. This allows every employee to educate new customers that come in to the shop.
"I like to think of the baristas as ambassadors for a healthier way of eating and living," she said.
That education is a huge part of Retik's overall goal in helping others with her condition.
"I want to bring my products to people in need, but I equally want to introduce a better, healthier way of eating to everyone. I am thrilled that we currently have a large customer base who is not in "need" but come by choice."
Despite no grain, dairy or sugar, Retik manages to concoct delicious offerings that ensure people choose The Squirrel & The Bee. Though she's been open just nine months, Retik estimates she's already sold more than 30,000 blueberry muffins—the clear morning-time winner. But it's the Belgian waffles, served only on Sundays, that have people lining up all day.
It's not just the opportunity to help people and work everyday doing something she loves that Retik relishes as a business owner – it's the reward of providing jobs for other people as well.
"I am humbled at the thought that I have created a business that helps not only the people who come to eat, but also provides jobs for people who need them. I am now up to 21 employees and I consider each of them to be a part of my family."
The Squirrel & The Bee is the clear breadwinner for Retik and all she seeks to serve.