KEZI sexy cool
Friday, April 10, 2015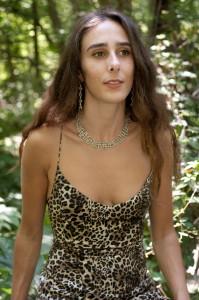 The best pieces of art are often transformative. What starts out as one thing can take on a new shape, meaning or purpose for someone else. It's the out-of-box creativity and perception of an artist that can take one piece and make it something wholly different and unique – an artist like Olivia Ashjian James, for example.
A studio art major at Clark University, James worked primarily in line drawings, but by her junior year, she was itching to be more active with her hands and turned to sculpture. One night, she was working on a sculpture of a bull that would end up informing her own handcrafted, intricate line of jewelry.
"I had just finished the [bull's] leg, not yet attached, when I held it up and said to myself, 'This looks like a necklace pendant,'" James recalled. "I proceeded to make four other shapes like it and created my first necklace."
Taking inspiration from nature and ancient designs, James began experimenting in jewelry design, crafting original pieces for herself. "I noticed that whenever I wore a necklace I made, someone would stop me on the street and comment on it. That's when I knew I had something to share with the world."
In 2013, James founded her business, KEZI LLC, in Boston and developed an intricate, aesthetically divergent line of jewelry with more than 130 different designs. The name KEZI, derived from James's Armenian background, means "for you" in the language. The tagline for her business – "For You. Be You." – conveys embracing who you are so you can be the best you, according to James.
"KEZI designs give voice to beauty and strength that lies within. It is jewelry that embraces individuality and confidence, captured in my adornments for the body," she said.
The meticulous craft and expertise behind James's designs make her pieces eye-catching, but time-intensive. It can take her up to eight hours to make a necklace, and 14 to create a headpiece. But for a truly unique piece of jewelry, the special nature of each piece outweighs the time it takes to create them.
A sticking point of KEZI jewelry isn't just to adorn oneself with exquisite jewelry to elicit the feeling and appearance of beauty, but to wear a statement piece that brings out the inner beauty of the person wearing it.
"I see that people are drawn to the idea driving my business: a desire for people to truly embrace themselves and feel beautiful. My designs speak to people in a unique way because when someone finds a piece they like, it has captured something about them in the lines of the design."
With 50 designs ready to be added to her collection and plans to start a men's line in the near future, James is expanding on the name and promise of KEZI to be for all of us.
"KEZI is my lifelong project. I see KEZI as a way of embracing beauty and uniqueness within you through adornment of the body. My jewelry is a way to show off individuality, and love the self."
James clearly knows that when you look good and feel good, anyone can have the confidence, strength and ease to be themselves. Sometimes, all it takes is a pendant.