Illinois business owner addresses lack of cultural representation and starts Spanish-focused learning center
Wednesday, September 14, 2022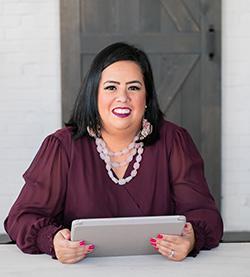 Vanessa Avalos noticed a need for bilingual education for young children in her community, and she immediately decided to execute on it. She launched Luna y Cielo, a play café and Spanish learning center to aid Latino and Hispanic mothers in raising bilingual, bicultural and biliterate children.
Her classes encourage children to see themselves as positive representatives of their culture. Through workshops and play, Vanessa is able to provide a platform that can help children connect with their cultural roots and preserve traditions that may not otherwise be instilled in their neighborhood schools.
She shares, "I incorporated my business in 2020 and knew it would take time to get it off the ground. It's been a learning process as a first generation business owner, but I'm proud of what I've accomplished thus far and the support I've received from business organizations such as Small Business Majority."
Vanessa joined the Small Business Majority network in 2021 after applying for and receiving grant funding from our #SupportSmallBiz grants, a program we deployed in partnership with Support Latino Business and Team Friday. She explains, "the grant funding I received is going to help cover commercial rent for my business, which I'm truly excited about. I've faced challenges in securing the right location for my learning center and though my clients have been patient about the limited hours we currently offer and the many formats we've explored during the pandemic, 2023 will be the year for us."
She explains that the most challenging part of getting her business up and running has been securing a brick and mortar location. Commercial leasing comes with its own set of rules and stipulations, which can be confusing for business owners, especially new entrepreneurs like Vanessa. To help her navigate establishing a business, she sought help and guidance from the Foundation of Little Village, and participated in the 12-week business cohort "Juntos Emprendemos" to learn the ins and outs of owning a small business.
Most recently, Vanessa joined Small Business Majority's Illinois Small Business Council where she volunteers her time and shares her entrepreneurial expertise. She says, "my role as a leader is to provide opportunities for other Latino and hispanic entrepreneurs to be successful. And joining the Council will allow me to do just that while also contributing to the development of the next generation of innovators."
Vanessa advises small business owners to take advantage of free support offered by local Chambers of Commerce and business organizations that provide support for business owners to succeed.
Small Business Majority is spotlighting diverse entrepreneurs like Vanessa Avalos to celebrate their accomplishments and highlight their contributions during National Hispanic Heritage Month.