A Gamble Gives Growing Gains to Goedeker's
Friday, May 9, 2014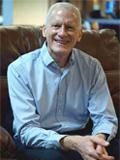 It's no secret that maintaining a small business is tough work. At the heart of many small business success stories is adaptability, a trait that has enabled Goedeker's to thrive for more than 60 years.
Since 1951, the St. Louis staple has changed with the times, becoming a trusted name in major appliances, furniture and home lighting after starting out as a quaint TV and radio repair shop, noted Steve Goedeker, the store's current owner and son of the store's founder, Ben Goedeker.
In the '70s, Goedeker's went from a 1,200 square-foot showroom into a major player in the city. "Business was growing, so [my dad] expanded to an even larger showroom – then we became a common name in St. Louis," Goedeker said.
That massive growth never came at the expense of the values and faith at the core of this family business. "We are different from other appliance stores because we operate with a different set of standards than most businesses do," he said. "Our priority is to serve our fellow man to the best of our ability."
Customer service is another aspect that Goedeker's prides itself on, terming their patented brand of service "Mom Care." "We look at our customers' questions and problems the same way we would look at them if they were happening to our mom," he said. "How would we want her to be treated?"
That sense of familial care brought Goedeker into the family business. After graduating college, he returned home to work for his dad while figuring out what it was he wanted to do. Tragically, his father passed away soon after from cancer.
"Being the eldest of nine children, I had to step up to the plate," he said. "There was no way my mom could run a business and care for my younger siblings."
Goedeker ended up finding great comfort in taking over the business. "I'm inspired when the business succeeds because I feel like I'm contributing to my employees' and consumers' lives. We can give more to our employees. Our consumers are receiving the best price. We know we're affecting lives in a positive way."
It certainly didn't hurt that Goedeker brought along that adaptable business savvy his father possessed. After nearly going bankrupt in 2008 following the economic recession, Goedeker's began selling products online.
"We had to rethink our strategy," he said. "We tried several different ways to bring in sales. We finally said, what do we have to lose?"
It's a gamble that paid off immensely. Online sales exploded, cementing their grip on the Internet market and causing the company to grow tremendously.
The evolution that has kept Goedeker's afloat is the one thing Goedeker hopes to continue, including the launch of a mobile site by the end of this summer.
"The sad truth is that 90 percent of brick and mortar businesses have gone out of business," he said. "Online, we can continue to add services and products. It's a continual evolution of getting better. There's no finish line on how far we can go."