EFS Energy Seeks to Get Customers Soaking Up the Sun
Friday, April 4, 2014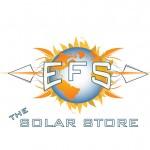 Solar power is a great, efficient energy source that has yet to really catch fire for the average consumer. But one small business owner in the Show-Me State is looking to enlighten his fellow Missourians, one solar product at a time.
Kyle Barber, managing partner of EFS Energy, has been a passionate advocate for solar energy for much of his life.
"I always asked the question, 'why aren't we doing it?'" said Barber, a pressing question that he would turn into his very own business venture in 2010. EFS Energy was one of the only solar companies in St. Louis at the time.
Barber noted a particular type of consumer was being overlooked in the energy market, so he seized the opportunity to cater to them.
"Our vision was to have an inviting, friendly solar store," he said. EFS Energy thus launched as the everyman's version of a solar store, featuring products your typical homeowner could use—not just heavy-duty commercial products. EFS Energy's storefront contains everything from LED products to small, energy efficient items like solar garden or front door lights in an effort to help its customers reduce the amount of energy they consume and become more self-sufficient.
Offering easy to use energy efficient products allows customers to follow Barber's tagline: "Reduce and produce your own energy."
Spreading the word about solar power and energy is no easy feat, though. Many people don't have all the facts about solar—from what it costs to install to the benefits that can be reaped. This makes it difficult to not only inform the masses, but to find educated experts to employ. "Education isn't cheap and no school out here markets solar energy specifically," he said.
So Barber puts employees through an in-house training program, then turns EFS Energy's educational focus toward the community. "We try to educate people on why they should be doing [solar]," he said. "People may be interested, but may not know where to go," he said. "We work closely with the community and do a lot of events like high school class visits to raise awareness and market ourselves."
EFS Energy also offers free site evaluations and estimates to inform people on how they can improve their energy standards.
With various obstacles to overcome in making solar a more viable option for people, you'd think Barber would be sweating his job. Rather, he basks in its glow.
"Owning and operating a small business is never easy, but it's rewarding at the same time," he said.
With that attitude, you can bet that even after the sun sets, Barber's still thinking about how to convert another person to solar.