Discovering cultures through cuisine: Restaurateur brings her Filipino zing to Wisconsin
Wednesday, July 21, 2021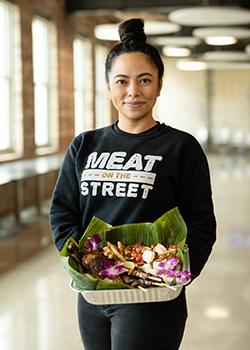 Only a couple of months away from receiving an engineering degree, Alexa Alfaro decided to go out on a limb and pitched a business idea to her family. She'd spent the better part of her life learning about her Filipino heritage with her father, and cooking was the main ingredient for her to do just that. That's when she launched Meat on the Street, Milwaukee's first Filipino food truck in 2014.
Alexa and her family worked together to build and develop Meat on the Street, and through their arduous work, they were able to scale up and open a brick-and-mortar location in downtown Milwaukee and a catering branch.
Alexa shares, "To us, food is love. And we founded our company on that love, on the love for our Filipino culture and the desire to teach others about not just our cuisine and culture, but to instill an appreciation for Asian American and Pacific Islanders (AAPI) cuisines as a whole. We believe in being able to explore cultures through food, and that's what we're about."
Alexa's success in Milwaukee has translated into all sorts of opportunities to highlight her culture through food, enabling her to participate in speaking engagements across the country and even being published in The New Filipino Kitchen, an international cookbook containing stories and recipes from 30 different Filipino chefs.
She says, "With my family, we've thought about what it means to be active representatives of our culture in a place like Milwaukee where diversity is perhaps lacking, and we want to be intentional in our representation because that matters. We're in the final stages of an amazing project to revamp our brand and we're hoping to highlight different aspects of the Philippines through an artistic design so that people can see themselves represented in their own community."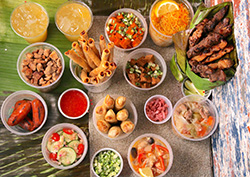 When the COVID-19 pandemic became widespread, Alexa wasn't sure how much it would affect her business. As more information came to light, she equipped her team and business with cleaning supplies to last them for a while. In the meantime, she regrouped with her family and crunched the numbers to figure out how her business could overcome the challenges ahead.
She shares, "We were proactive in our communities prior to the pandemic, and it was our involvement with socially-engaged groups that kept us abreast of the situation and involved by whatever means possible."
Alexa's business set out to deliver cost-effective meals for healthcare workers in the first three months of the pandemic, which subsequently led to more customers purchasing meals from her business. She also received emergency relief funding from programs like the Paycheck Protection Program, the SBA's Economic Injury Disaster Loan, and a local grant to help her navigate the difficulties of the last several months.
Despite the challenges presented by the pandemic, Alexa's growing business continues to pioneer the AAPI food scene in Milwaukee and is currently in a good position to get through the next several months.
She says, "It felt like we were bleeding sometimes, and at other times we felt financially stable. We were racing against the clock when it came to changing our operations to follow CDC guidelines and state guidelines. But we remained flexible in our day-to-day, and we openly communicated with our employees and made sure everyone felt comfortable with the changes. It's a business, but it's also people's lives too."
Alexa advises fellow small business owners to have plans and goals for their businesses but ultimately, "Be flexible in your execution."