Chicago restaurateur highlights the importance of capital in post-pandemic era
Monday, May 23, 2022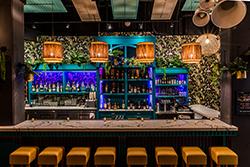 Navigating the COVID-19 pandemic has been a tall order for small businesses, creating financial chaos and instability for all entrepreneurs regardless of how many years they've been in business. For Manish Mallick, owner of Bar Goa, an Indian gastropub, and ROOH Chicago, a progressive Indian restaurant and cocktail bar, seeing his once-bustling restaurant turn into an empty eatery has been devastating.
Manish's ROOH Chicago began in Chicago in May 2019. But the COVID-19 pandemic had put a damper on his sales, leaving him and countless small business owners strapped for cash. Food and supply costs have risen, along with a host of other issues making it difficult to recover.
Like many other smaller restaurants which struggled with workforce retention, this was an issue for Manish. He says, "The past 18 months have been challenging in more ways than you can imagine, but we've tried very hard to provide and maintain our staff, as they are key to our success."
Financial stability and protecting the health of his employees and patrons are paramount to his small business. One measure he implemented in his business is the enforcement of mask wearing. He says, "It's important for people to do what is necessary to remain healthy, and wearing masks can minimize the spread of COVID-19." In addition, he has invested heavily in cleaning supplies and equipment to ensure the space is always clean for our team and our guests.
Manish shares that although he's seen an uptick in patronage over the last few months, his business is still not where it should be. He is currently awaiting critical grant funding from a local program that will allow him to keep his business running, and will give him the necessary capital to cover employee wages and operating costs.
Manish explains, " Until COVID is taken under control and business returns to pre-pandemic levels, capital will continue to be a priority for my business and that of millions of businesses across the nation."