Benevolence Farm's social enterprise makes a difference for North Carolina women
Friday, January 21, 2022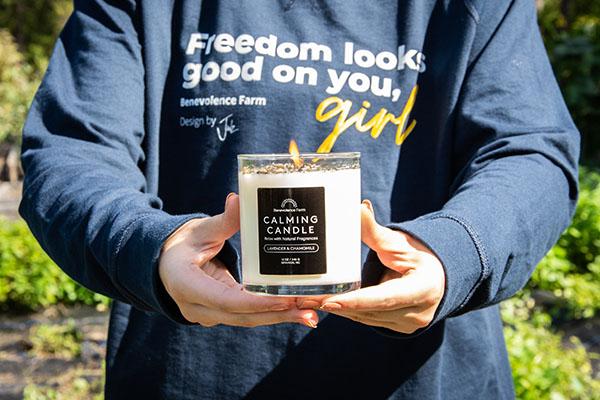 Benevolence Farm, located in Graham, N.C., is a transitional living and employment program for women leaving North Carolina prisons. The farm grows and sells produce, flowers and herbs and manufactures soaps, lotions and candles with the support of the women participating in its programs.
According to their mission statement, "Benevolence Farm seeks to cultivate leadership, promote sustainable livelihoods, and reap structural change with individuals impacted by the criminal justice system in North Carolina."
The program was founded by Tanya Jisa in 2006. The inspiration to build such a program was sparked by a statistic she read in the New York Times that read "Every 1 in 100 people in the United States are behind bars." That's when she knew she had to make a difference.
Benevolence Farm stands on the principle that every woman, no matter her background, should have the chance to transform and succeed. Benevolence Farm does not screen out women based on their conviction type or length.
Eligible women must be a self-identifying woman transitioning to society from prison, must be willing and motivated to make healthy life changes and develop leadership skills, and contribute to the farm, property and household.A typical stay can last from six to 24 months per resident.
Executive Director, Kristen Powers, said, "We do have a lot of women who've been incarcerated for a really long time. And so you know, going from these community/group settings for sometimes decades to living alone can also be very challenging."
These women typically don't have much savings or income outside of prison, so the program tries to alleviate that financial gap by providing living wages. Living wages start at $11 an hour in Alamance County, NC. However, Benevolence Farm, if funding allows, is hoping to begin providing their residents with $15 an hour soon.
On all fronts, Benevolence Farm mentors their residents to allow an easier transition back into their communities. But starting in 2018, Benevolence Farm launched their body-care enterprise. This provides an opportunity to provide business mentorship and entrepreneurial skills to residents while creating revenue for their programs.
"Even though we are a non-profit business, we want to build our social enterprise component to a place where we are not as dependent on grants," Kristen said.
Their hope is to reach a point where the profits are fully covering the costs of living wages for the program's residents.
They are the driving force behind developing new body care products. Their winter line included candles such as the Gingerbread Soy Wax candle and the Cranberry Chutney candle.
Kristen described one of the residents as the "candle scientist" because of her heavy interest in the candle design and fragrances.
"For residents who have expressed starting their own business, we are working with local entrepreneurs to provide unique learning opportunities and resources tailored to each resident's interests," Kristen said.
Looking ahead, Benevolence Farm has big plans for the future including hopes for a tiny-home community and adding more space to help more residents.
It's a place where second chances grow naturally.
To learn more about Benevolence Farm, visit their website.