Arizona entrepreneurs launch marshmallow shop to sweeten their community
Wednesday, June 15, 2022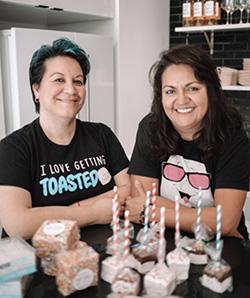 When Tricia M. Arce's grandmother passed away, she began making recipes with marshmallows to ease her grief. Once she realized how popular her inventions were among her coworkers and close friends, Tricia and her wife Hazel decided to launch the Toasted Mallow, a line of handcrafted marshmallow desserts for every taste, locally available in Gilbert, A.Z.
Tricia first launched her small business on the Etsy platform in 2014. From there, her product gained popularity and she slowly transitioned to selling on Facebook, and she then decided to take a leap of faith to open a brick-and-mortar location in the same year.
Since opening their shop, Tricia and Hazel have made it a priority to create a work environment that supports people of all backgrounds, and they believe in speaking openly about the challenges they face. The couple have hired many employees who identify as LGBTQ, and they want to ensure that their small business is a safe space for all, regardless of who they are or where they come from.
She says, "We're driven by joy and happiness, and we know that marshmallows are an all-time favorite treat for all. So we're here to create memories–to create lasting memories for our customers and their families–and seeing their smiles as they enjoy our products is what keeps us going."
During the pandemic, Tricia and Hazel have been pushed to pivot their small business and have incorporated recipes with milkshakes and cupcakes while business goes back to normal. Sales have ebbed and flowed, and while their online sales boomed during the earlier part of the pandemic, they continue to navigate an uncharted territory in their industry.
Hazel, whose mother immigrated to the United States from Costa Rica, says that "right now is the time to keep going." She shares, "My mother worked many jobs when she came to this country, and her resiliency has served Tricia and I as a compass and breath of encouragement to never give up."
But they know many entrepreneurs like them are wading through myriad challenges to get their businesses off the ground. When asked about advice she would give to other budding entrepreneurs, Tricia said she believes that hiring a good certified public accountant to help track all businesses expenses is critical in managing budgets and simplifying tax season. She also suggests that social media can be a great tool to increase awareness and support of small businesses.
Indeed, Tricia and Hazel are promoting their line of Pride-inspired treats in celebration of Pride Month on their social media accounts, which include rainbow bombs, marshmallows and cookie dough bombs.
During a time of a great divide in our nation, Tricia and Hazel are encouraging others to effect change in their own communities. They explain, "We need to see each other as human beings and not fall into societal categories that bring us apart."