Up, Up and Blown Away by Aerial Productions International
Friday, June 6, 2014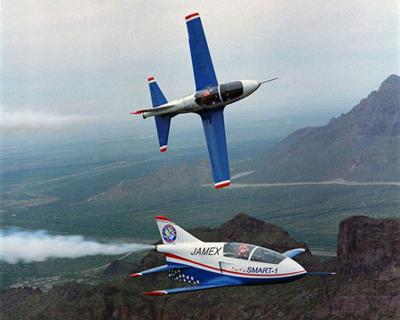 Aerial Productions International has proven that bigger isn't always better by maintaining and flying the world's smallest jet.
The Tucson-based small business supports professional engineering efforts for the development of advanced aerial systems, and provides small jets for military training exercises.
Coming in at just 12 feet long, under 500 pounds and with a wingspan of 17 feet, API's SMART-1 (Small Manned Aerial Radar Target) is the only Defense Intelligence Agency certified cruise missile surrogate—meaning it can mimic a cruise missile for the purposes of military training exercises. These military exercises include anything from early systems testing, unit training, major threat exercises and homeland defense development.
A stalwart foundation and passion for aviation helped API rise and take off to new heights since its establishment. President Bob Bishop grew up in the co-pilot's seat – his father owned a large crop dusting business outside of Phoenix. Bishop's own career in aviation includes serving as an experimental test pilot, an airshow demonstration pilot and as the founder of the Freedom Team, which flies the SMART-1.
"Our unique services are one-of-a-kind so we don't have many drop-in customers," said Peter McNall, vice president of operations for API. "We strive to stay relevant and operationally tethered to the requirements of major programs and keep in contact with former clients as programs mature and requirements grow."
The SMART-1's size, maneuverability and manned features have made the jet's popularity skyrocket, even being featured on the History Channel's "More James Bond Gadgets" special.
But the team behind the SMART-1 at API is as equally impressive and savvy.
"We have a small work force that has a great sense of pride and ownership," he said. "That pride translates to a tireless commitment to providing excellent service and quality. This isn't a job but a passion."
With two operational jets at their disposal, API has its sights set higher with plans to fly a newly built aircraft with more improved features like the jet's data transmission and turn-around speed that they hope will excite and capture new markets. Since these aircrafts are experimental and classified under research and development, they are not for sale to the general public.
"We see expanding potential to provide new services for our military and governmental partners. We are only limited by our imagination to what new services we can provide with our small jet aircraft."
API hopes to have a fourth aircraft built by the end of this year. Some might dismiss this goal as the business having its head in the clouds, but API and the SMART-1 are too busy flying amongst them and revolutionizing aviation to slow down.
"We believe in our mission and the importance of the work we do. We have a strong commitment to our employees and our clients. This is exciting work for us and we see the future requirements for our service expanding."
The world should buckle up, because API has a license to thrill.