After tragedy, single mom teaches local kids the value of entrepreneurship
Tuesday, March 19, 2019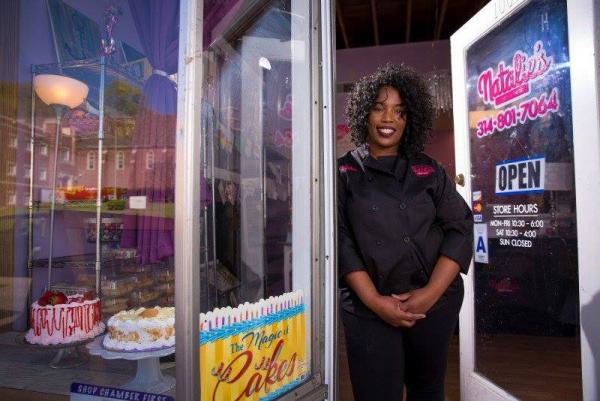 Small business owner Natalie Dubose recounts the night of Nov. 24, 2014, like a scene out of the movie "Independence Day."
"Every shop in downtown Ferguson leading up to mine and past mine was destroyed. I found furniture from the law firm across the street, that the protestors had used to break the windows," she said.
Less than one year after opening Natalie's Cakes & More in Ferguson, Mo., Natalie found herself having to rebuild her business from scratch after her store was vandalized during a protest following the decision not to charge the police officer who shot and killed unarmed 18-year-old Michael Brown in August of 2014. But, with the help of her community and a handful of benevolent strangers, she has been able to continue selling her signature cakes and in turn, support young people in Ferguson.
After the protests, a New Orleans journalist named Kristine Froeba saw Natalie on the local news and decided to do whatever she could to help the struggling single mom. Kristine set up a GoFundMe, and used Natalie's social media accounts to promote the page. She also got Natalie coverage on a number of national news stations. They eventually raised $250,000 for Natalie, and $500,000 for other damaged small businesses in the area. Natalie used that money to rebuild the bakery, and thanks to the publicity Natalie landed a deal with Starbucks to sell her cakes in their stores. 
Despite the remarkable challenges she faced, Natalie remains upbeat. She credits her many years as a single mom with giving her the will and the skills she needs to carry on running her small business.
"Any single parent could be a business owner because single parents learn how to juggle naturally," she said. "It's important that my kids see that mom doesn't just own a business, she is dedicated to this business. This is how we eat and this is how we breathe," she explains.
Natalie's business is clearly about much more than earning a living. The bakery also gives her an opportunity to bond with her teenage daughter. In fact, the 16-year-old also has a passion for baking and discovered a talent for cake decorating too. It is fitting that Natalie and her daughter work side by side in the bakery since Natalie gained her own love for baking from her father while growing up in Walnut Park, St. Louis. Her father owned a barber shop and always baked in his spare time.
"He would never give me his recipes, and he never measured anything, so I would sit and take notes as I watched him make his cakes," Natalie reminisced.
However, Natalie's true passion has little to do with cakes. In fact, it is important to Natalie that she shows local children that there is no single version of success. As a result, she is in demand as a motivational speaker at local high schools and colleges where she hopes to inspire young people to follow their passions.
Natalie was also recently selected to participate in the Goldman Sachs 10,000 Small Businesses program through Babson College where she hopes to learn how to access funding, so she can start offering cake decorating classes for the youth in her community to motivate them to explore their creative talents.
Natalie says about juggling being a mom, business owner and community activist supporting young people, "Youth are our future, and you make time for the things you want to make time for."