Jejuan Stewart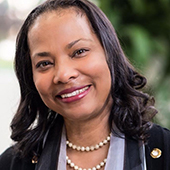 Owner, Eagle7 LLC and John and Jejuan Stewart Jr. Foundation, Snellville
Jejuan Stewart is a passionate and committed CEO with expansive experience in community engagement, youth leadership, and parent empowerment. She is the visionary entrepreneur behind Eagle 7 LLC, a consulting firm that focuses on program development and community engagement. She is also a philanthropist and founder of John and Jejuan Stewart Jr. Foundation, a faith-based non-denominational organization with the vision to create a group of focused, empowered youth who make a positive difference as individuals in their families and communities.
As a subject matter expert for youth, parent, and community collaboration, she served as a Youth Council Advisor of Gwinnett NAACP Youth Council for seven years where she developed programs and initiatives to encourage and educate students in their education and career goals.
Jejuan is a graduate of BS Chemistry and Sociology at the University of Miami and a Masters Degree in Medical Science in Anesthesiology at Emory University.