Amy Bielawski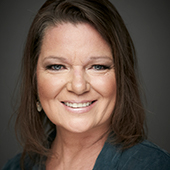 Owner, Hare-Brained Productions, Tucker
Amy has been performing her whole life starting with teaching and entertaining with her mother's dance/piano studio. Graduating from Florida School of the Arts, she moved to Atlanta to pursue her dreams of dance and more. After evolving with more skills under her belt, she decided to start her own entertainment agency.
Hare-Brained Productions began in 1994 with a culmination of skills and a desire to have a career that not only makes one happy but makes others happy as well.
We provide all types of entertainment including face painting/balloon sculpting, many dance forms, juggling/stilts, magic, caricature art, musicians/djs, singing telegrams, fire eating, fortune telling, costumed characters etc. for every kind of event. We are here to facilitate services for customers who are looking to promote their business to the public and for personal parties that will enhance the joy of their guests.
The professional crew that we work with has many kudos in their own rites. We have traveled and performed with bands working with the B 52's at the Navy Pier and other famous bands at Guinness Oyster Fest, worked in film/television for commercials and programs, have performed with and for celebrities such as Jane Fonda, Ted Turner, Jimmy Carter, Janet Jackson, Jermaine Dupree, Iman, Lauren Hutton, Cirque Du Soleil, Evander Holyfield, and Alton Brown.