Two engineers join forces to "nspire" their community
Tuesday, April 21, 2015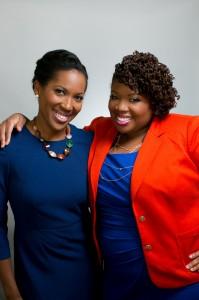 What started as a chance encounter between two community-minded engineers at a conference blossomed into a lasting partnership and an innovative small business focused on public engagement and environmental planning.
Nspiregreen, the brainchild of business partners Veronica Davis and Chancee Lundy, is a Washington, D.C.-based environmental and urban planning consulting firm.
In 2002, Davis and Lundy met at a leadership conference for the National Society of Black Engineers (NSBE) and began discussing their common interests, including a commitment to social justice.
"Two phrases of the NSBE mission spoke to us: 'culturally responsible black engineers' and 'positively impact the community,'" Davis recalled. Within 20 minutes, "we decided that one day we would start a business."
Davis and Lundy realized that the technical expertise and community contributions they wished to provide would only prove fruitful if they were to create the kind of company that would allow them to do so. In 2010, the two quit their jobs and fully devoted themselves to Nspiregreen.
Initially, Nspiregreen took on environmental grant writing projects, as well as providing technical advice to non-profits. The business really began to bloom after receiving a government contract from the District of Columbia.
"It allowed us to build up a past performance and reputation as a company," Lundy said. "As they say, the rest is herstory."
Nspiregreen focuses on three business units: environmental solutions, urban planning and public engagement. Under the environmental solutions umbrella, they take on projects that analyze how to reduce pollutants, and estimate the District's energy needs. Their urban planning projects examine how to reduce environmental impacts by improving transportation infrastructure.
But it's the public engagement part that truly separates Nspiregreen from other similar firms, such as Davis's efforts to expand the Black Women Bike DC's membership, ensuring that women of color have a voice at the table with District lawmakers as they weigh bikers in the city's overall infrastructure plan.
"Our public engagement supports our other business units," Davis said. "Our projects impact people. We believe it is important to hear from the people who are impacted by the projects we work on."
As a smaller, more niche engineering firm, Nspiregreen uses its budding size to its advantage. "We are more nimble to change and willing to be more creative than the larger firms," Davis said.
That creativity is a major aspect of the type of company Davis and Lundy envisioned when they set out to build Nspiregreen.
"We have a culture of innovation," Lundy said. "We believe in trying new techniques and ideas to provide quality services to our clients. Our favorite part about owning a business is being able to create a company culture that reflects a place where we wished to work."
After successfully harvesting their dream company and impacting their local D.C. community, Davis and Lundy have set their sights beyond the District.
"Our five-year plan is to expand our environmental and urban planning services to other cities in the U.S., and work with large U.S.-based companies and foundations on projects for Latin America and the Caribbean."
If their efforts in D.C. are any indication, communities across the country, and the world, will reap great benefits from Davis and Lundy breaking new ground with Nspiregreen.