LineSync Architecture Proves It Pays to Be Green
Friday, May 30, 2014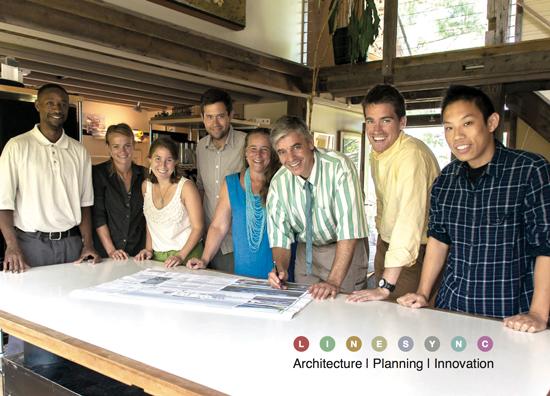 When it comes to eco-friendly architecture, one Vermont small business started paving the way long before green became a movement, not just a color.
LineSync Architecture, owned by Julie Lineberger and her architect husband Joseph Cincotta in Wilmington, Vermont, is a trailblazing business that specializes in innovative and sustainable architecture.
With a hand in designing everything from sustainable residential homes, to innovative corporate environments and public commodities like parks and resorts, LineSync tackles all their projects with an eye for green building and protecting the land around it.
"It's an amazing process for everyone," she said. "Good for our clients, good for the environment, good for the world."
The behind-the-scenes story of LineSync Architecture is one that is as rooted in romance as it is in sustainable architecture.
Cincotta was a budding architect by the time he entered Kindergarten, building intricate structures out of blocks that many of his classmates would walk across. With architecture already in his blood, Cincotta was only missing the other half of the puzzle that would become LineSync.
He met Lineberger while skating along the Charles River, and a burgeoning love story that would yield both their personal and professional union began. Both hailed from entrepreneurial families, and once married after graduation, they decided to settle in Vermont.
"[We] chose Vermont for its fresh water and clean air and ability to rent a farmhouse that would also serve as our architectural studio," she said.
LineSync opened its doors in a small southern Vermont town lacking even a stoplight in 1988, with just one client signed to a two-year contract for development. A week later, the real estate market busted and their only client skipped town, owing money to various people.
"That first year, we grossed $14,000," she said. "Slowly we built our business, moved to the next town with the only stoplight for 20 miles in all directions and started hiring employees."
LineSync's operating model is exactly in-line with the rest of their business model. And it's because of it that this socially and sustainably-responsible business has been able to thrive.
"Each employee, for example, sets his/her own schedule. We work to live, rather than vice versa," she said.
In addition to designing and running LineSync, Lineberger and Cincotta are frequent public speakers and teachers of design, sustainability and socially responsible business practices.
"Contributing to a better world through good design and socially responsible business practices is invigorating," she said. "Being able to arrange our own lives to focus on both professional and personal goals is the gift successful entrepreneurship allows our life."
An irrefutable success in sustainable design, LineSync is leaving other architectural firms green with envy.