Illinois entrepreneur cooks up gluten-free delicacies for her community
Thursday, February 3, 2022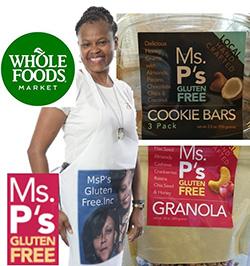 For Lisa Marsh, owner and founder of Ms. P's Gluten Free, going gluten free changed her health. Her acid reflux and digestive issues went away, and she felt better than she had in years. Yet, this change in diet meant having to explore alternative recipes for treats normally full of gluten, like cakes and cookies.
Lisa recalled finding triple chocolate chip, gluten-free cookies that can be baked at home. She was so eager to try one, Lisa couldn't wait long enough for them to cool down.
"I put one in my mouth," Lisa said. "It tasted like hot wax. And I told myself I cannot maintain this diet by trying to eat food that tastes like sawdust. So, I started baking myself."
Lisa's baked goods became a hit. Her coworkers and family loved them and suggested she start her own business, inspiring her to learn more about entrepreneurship.
She completed a 12-week business course with our partners at Sunshine Enterprises on the South Side of Chicago in 2014. By September 2016, her baked goods were sitting on the shelves of local Whole Foods Markets. Lisa hasn't looked back.
Soon, she'll be launching a new line of gluten-free granola with the help of Hands-On Twin Cities and Target. She'll have new flavors, new packaging and a new digital marketing plan.
Hands-On Twin Cities, based in Saint Paul, Minn., helps to connect nonprofits, volunteers and companies. They have partnered with Target to help entrepreneurs, like Lisa, with their business goals moving out of the pandemic.
"This pandemic almost took us out," Lisa said. "It almost got us."
The company was able to receive two partial Paycheck Protection Program (PPP) loans in addition to grant money from the Urban League and Sunshine Enterprises.
"This business comes from the last six years of grinding and understanding how to move forward," Lisa said. "I had to learn from the ground up. There wasn't anyone in my family to call and ask 'How did you do that?'"
The name "Ms. P's Gluten Free?" It came from Lisa's mom, Ms. P., as she was affectionately known by friends and family. "Our mom taught us that we can do anything," Lisa said.
Lisa's products can now be found in 23 Whole Foods Market locations in and around Chicagoland, on Amazon and by visiting her website.