I Scream, You Scream, Ohio Screams for Coppa Gelato
Friday, October 10, 2014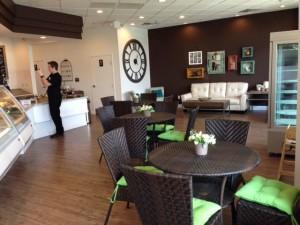 Here's a scoop: Residents of the Columbus, Ohio area do not have to take that lavish Italian dream vacation to get their hands on some dynamite gelato.
Coppa Gelato, a family-owned gelateria, offers authentic Italian gelato out of a cozy café in the town of Westerville.
Linda Davis had been dreaming of opening her own ice cream shop for more than 30 years. After selling real estate for almost 20 years, Davis quit cold turkey and turned her attention towards that dream. After getting her first taste of gelato, and learning it was healthier than traditional ice cream, she set her sights on opening a gelateria.
"For a little over a year, I researched gelato and visited every gelateria in Columbus," Davis said of her icy plunge into the entrepreneurial world. Columbus was an integral starting point as Davis notes "many major corporations test the market by introducing their product in Columbus."
Davis studied under gelato experts from Italy to perfect her craft, researched the market, found a booming retail space and hired contractors to start constructing her vision all before opening Coppa's doors this past July.
Enlisting the help of her two daughters, Alycia Turley and Lindsey Kovach, Coppa Gelato launched to rousing success. In addition to the 30 flavors of gelato available, Turley is a pastry chef and makes everything from cream puffs to macaroons. Kovach serves as Coppa's marketing and business coordinator.
"I think the biggest challenge is keeping the business separate from family time," Davis said. "Lindsey, Alycia and myself live and breath Coppa Gelato, and trying to have dinner without talking business is nearly impossible."
However, it's this close-knit working environment with her family that remains one of Davis' biggest joys.
"The number one part about owning this business is being able to spend time with my daughters and grandson, even if it's at the café. I am extremely fortunate to have family members involved in every aspect of the business."
When it comes down to it, however, it's all about the gelato. Coppa Gelato makes each batch fresh daily with no pre-mixes. With 30 flavors and counting, Davis says that the seasons play a big role in experimenting with new flavors. This coming fall will introduce pumpkin, apple pie and harvest spice concoctions.
What truly makes Coppa Gelato stand out is the way it embraces traditional and authentic Italian-style gelato, without neglecting the local Ohio sensibilities. Many of their most popular flavors are plays on Ohio-specific traits. The B'Urban Meyer, Coppa's take on the classic butter pecan flavor, is named after the Ohio State University football coach. Meanwhile, nothing says Ohio state pride like having a flavor called The Buckeye, crafted to meld the smooth chocolate and rich peanut buttery tastes of a buckeye candy.
With a nod to their community, Coppa Gelato keeps customers happy with top-notch service.
"The staff goes out of their way to make each customer feel they are having a special experience, including silver dishes, silver spoons and a Ciao cookie with each serving," she said.
As Coppa Gelato plans to start distributing to restaurants and grocery stores in the near future, Davis hopes to spread a little piece of Italy along with that undeniable Midwestern charm to customers everywhere.