Florida Start-Up Breathing New Air into Global Turbine Industries
Friday, June 27, 2014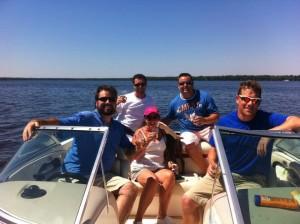 You can't see it, smell it or touch it, but Florida-based GT ICE has made a successful small business around it.
Based in Ponte Vedra, Fla., GT ICE is a global supplier of gas turbine auxiliary systems, filtration and packaging products, which help condition air through cooling, heating or filtration.
An acronym standing for Gas Turbine Inlet Cooling Enterprise, GT ICE is turning conditioned air for gas turbine customers into a profit. With products ranging from filter houses, turbine enclosures, exhausts and chilling/heating coils, GT ICE is a go-to source for world-class manufacturing for industries that rely on turbine power.
"We identified there was a far larger and growing market for cooling and packaging products in other parts of the world including the Americas, the Middle and Far East," said Janice Rippon, vice president of GT ICE.
Partnering with a shareholder in the manufacturing business of gas turbine packaging products in Europe led to the official creation of GT ICE.
"We pitched a business model and plan to them which suggested opening design engineering and sales offices in other key locations, with the first identified as our Ponte Vedra headquarters," she said.
The company offers site surveys, design engineering, global manufacturing, retrofit services, turbine and reciprocating products to a wide assortment of gas and steam turbine customers internationally, helping them turn efficiently conditioned air into better value energy.
Turning a nascent small business into a global player, especially considering most of their projects take a minimum of 18 months to complete, is no easy feat. It wasn't the quantity of projects but rather the quality that got GT ICE to where they are today.
"The projects are usually very large and take time to come to fruition. Our business relies on building relationships with large customers….some may well introduce us to a new customer with a future project in mind."
Partnering with other small businesses globally helps secure GT ICE's reach and reputation, allowing them "to offer the end customer the best range and quality products on the market as solutions for their gas turbine power plants."
GT ICE is all about looking ahead to the future, with sights set on total gas turbine domination, so to speak.
"Our focus for expansion is currently on being the preferred supplier for all the major companies in the industry."
There's no air of mystery about it – GT ICE is coming for your turbines.