Big Muddy Workshop does landscape architecture mean, green & clean
Friday, May 8, 2015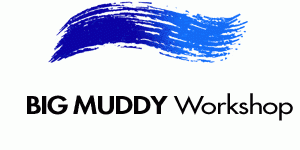 Sometimes you have to get down and dirty in order to create something beautiful, and that's the driving philosophy behind one of the leading landscape architecture firms in the Midwest.
Big Muddy Workshop, based in Omaha, NE, was founded by John Royster, a third generation small business owner inspired by design and a passion for sustainability. Having come from a family of business owners, Royster decided early on he should merge his personal interests with his family's entrepreneurial spirit.
"Both of my grandfathers, my father and several uncles were small business owners," Royster said. "So it seemed natural to me to start a business when I identified an opportunity that would be emotionally, intellectually and hopefully financially fulfilling."
Since the summer of 1990, Royster has slowly but surely built Big Muddy Workshop into a widely renowned landscape architecture firm. When it comes to his business's success, Royster notes the true mark of a competent landscape architect is making people think that the work they've done just occurred naturally, but that also can prove to be a bit problematic on the business front.
"One of the challenges is educating people about what landscape architecture is," he noted. "In many cases, when a landscape architect does [their] job well, the public will never realize that a landscape was designed."
Put simply, landscape architects design spaces around buildings, open spaces, park systems and trails. With a hand in crafting these outdoor spaces and manipulating the land, environmental issues are especially important to Royster. Take, for instance, trees. Royster encourages his clients to plant trees that can weather changes in climate, survive with less water and resist pests and disease.
Every design decision has an impact and could pose a potential risk to the surrounding environment and climate. Royster sees this, however, as a chance to educate.
"[It's a] great opportunity when clients and the public can be educated and shown that by using green design solutions, project costs can often be reduced and the designs will be more environmentally successful."
Those innovative and sustainable solutions serve as the main goal for any project Big Muddy Workshop gets its hands dirty on. Royster set out to make his business a leader in protecting natural areas while restoring deteriorated landscapes and preserving historic and cultural resources.
"We felt we could have the most impact by working with clients focused on serving the public. We are unique because of our long-term emphasis on sustainable design."
With a business mantra of "any day in the field is better than a day in the office," Big Muddy Workshop is always looking to break new ground, literally.
"We plan to keep pushing for design solutions that are environmentally and financially responsible, and that encourage people to relax, play and explore the outdoors."