Xiomara Peña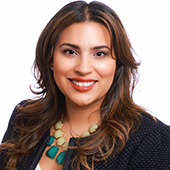 Vice President, Outreach & Engagement
Xiomara Peña is responsible for organizational visibility by leading Small Business Majority's Outreach and Engagement departments. Working with other senior executives of Small Business Majority, Xiomara plans, develops and drives initiatives for the organization towards building a more inclusive and equitable economy that directly benefits entrepreneurs in underserved communities. Alongside the organization's small business engagement team, she works collaboratively on strengthening relationships with policymakers, small business owners, and organizations across the country to amplify our equity lens in all areas of our work. Xiomara has extensive experience supporting small businesses, particularly those run by people of color, women, and immigrants.
She currently serves on the Advisory Council for Support Latino Business, Steering Committee for Policy Entrepreneurs Awards Program led by Common Future and she is a co-chair for Small Business Majority's DEI Council. She was one of 10 leaders selected as a LinkedIn Top Voice in 2019 under the Entrepreneurship & Small Business category. In 2019, Xiomara served on Governor Newsom's Paid Family Leave Task Force. She's also fluent in Spanish.
Xiomara serves as Co-Chair of Small Business Majority's DEI Council.
Vice Presidenta, Alcance Comunitario y Colaboraciones Estratégicas
Xiomara Peña es responsable de la visibilidad organizacional al liderar los departamentos de Alcance Comunitario y Colaboraciones Estratégicas de Small Business Majority. Al trabajar con otros ejecutivos de Small Business Majority, Xiomara planifica y desarolla iniciativas de la organización para construir una economía más inclusiva y equitativa que beneficie directamente a los empresarios en comunidades marginadas. Junto con el equipo de Colaboraciones Estratégicas, ella trabaja para fortalecer relaciones con legisladores, propietarios de pequeñas empresas y organizaciones en todo el país para amplificar nuestra perspectiva de equidad en todos los ámbitos de nuestro trabajo. Xiomara tiene amplia experiencia en el apoyo a pequeñas empresas, en particular aquellas dirigidas por personas de color, mujeres, e inmigrantes.
Actualmente ella forma parte del Consejo de "Support Latino Business," Comité Ejecutivo del Policy Entrepreneurs Awards Program liderado por Common Future y ella es co-presidenta del Consejo DEI de Small Business Majority. Ella fue uno de los 10 líderes seleccionados como LinkedIn Top Voice en el 2019 en la categoría de Emprendimiento & Pequeñas Empresas. En 2019, Xiomara sirvió en la Fuerza de Tarea de Permiso Familiar Pagado del Gobernador Newsom. Ella también habla Español.
Use this form to contact Xiomara: