Xiomara Peña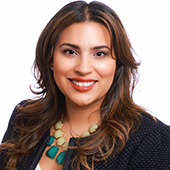 Vice President, Engagement
Xiomara Peña drives Small Business Majority's external engagement efforts toward a more inclusive and equitable economy that directly benefits entrepreneurs in underserved communities. Alongside the organization's small business engagement team, she works collaboratively on strengthening relationships with policymakers, small business owners, and organizations across the country to amplify our equity lens in all areas of our work. Xiomara has extensive experience supporting small businesses, particularly those run by people of color, women, and immigrants. Prior to joining Small Business Majority, Xiomara piloted business retention programs for the City of Los Angeles and programs geared toward empowering at-risk youth. She also has extensive experience as a business owner, community organizer, and campaign manager.
She currently serves on the Advisory Council for Support Latino Business, Steering Committee for Policy Entrepreneurs Awards Program led by Common Future, Steering Committee for B2SMB DE&I Council and she is a co-chair for Small Business Majority's DEI Council. She maintains a passion for workforce development issues, serving on the Business Advisory Council for UNITE-LA, and in 2019 she served on the Statewide Advisory Committee for the development of the California State Plan for Career Technical Education. She was one of 10 leaders selected as a LinkedIn Top Voice in 2019 under the Entrepreneurship & Small Business category. In 2019, Xiomara served on Governor Newsom's Paid Family Leave Task Force. She's also fluent in Spanish.
Vice Presidenta, Colaboraciones Estratégicas
Xiomara Peña conduce los esfuerzos de participación externa de Small Business Majority hacía una economía más inclusiva y equitativa que beneficie directamente a los empresarios en comunidades marginadas. Junto con el equipo de participación de las pequeñas empresas de la organización, ella trabaja en colaboración para fortalecer relaciones con legisladores, propietarios de pequeñas empresas y organizaciones en todo el país para amplificar nuestra perspectiva de equidad en todos los ámbitos de nuestro trabajo. Xiomara tiene amplia experiencia en el apoyo a pequeñas empresas, en particular aquellas dirigidas por personas de color, mujeres, e inmigrantes. Antes de unirse a Small Business Majority, Xiomara realizó programas de retención de negocios para la Ciudad de Los Ángeles y programas orientados a empoderar a los jóvenes de alto riesgo. Ella también tiene una amplia experiencia como dueña de un negocio, gerente de campañas y organizadora comunitaria.
Actualmente ella forma parte del Consejo de "Support Latino Business," Comité Ejecutivo del Policy Entrepreneurs Awards Program liderado por Common Future, Comité Ejecutivo del Consejo DE&I de B2SMB y ella es co-presidenta del Consejo DEI de Small Business Majority. Ella mantiene una pasión por los problemas de desarrollo de la fuerza laboral, en donde ella participa en el Consejo Empresarial de UNITE-LA y en el 2019 se desempeñó en el Comité Asesor Estatal para el desarrollo del Plan de Educación Técnica Profesional (CTE) del Estado de California. Ella fue uno de los 10 líderes seleccionados como LinkedIn Top Voice en el 2019 en la categoría de Emprendimiento & Pequeñas Empresas. En 2019, Xiomara sirvió en la Fuerza de Tarea de Permiso Familiar Pagado del Gobernador Newsom. Ella también habla Español.
Use this form to contact Xiomara: