Lisa Marlow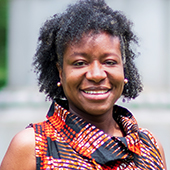 Lisa Marlow is the Media Relations Manager for Small Business Majority. She brings more than 10 years of experience in strategic communications to the team. In her role, she is responsible for planning and executing all media relations campaigns and strategies at the national, state and local levels.
Before Small Business Majority, Lisa was most recently Director of Strategic Communications at Subject Matter, where she raised the profile of clients with reporters and ensured new client resources were prominently placed in top-tier digital/print outlets. Before Subject Matter, she served as the Manager of Media Relations and Communications at the National Low Income Housing Coalition, where she drove effective and efficient communication for four years on the need to increase affordable housing for people in low-income communities.
Lisa serves as a member of Small Business Majority's DEI Council.
Use this form to contact Lisa: