Josaline Cuesta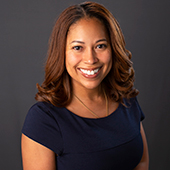 California Program Director
Josaline Cuesta manages the execution of Small Business Majority's programs and initiatives throughout the state of California in collaboration with the California team. Additionally, she directs the organization's Central Valley and Southern California offices and develops and fosters strong relationships with business organizations, community organizations and policymakers. Josaline serves as a member of the 2022 Entrepreneurship & Economic Mobility Task Force (EEMTF) under the office of the California Governor's Office of Business and Economic Development. She also serves on the Coordinating Council for Inland Economic Growth & Opportunity (IEGO) and is a co-lead on the CA FWD's Entrepreneurship and Small Business Ownership by People of Color policy work group.
Prior to joining Small Business Majority, Josaline worked in the private and public sector for almost two decades. Most recently Josaline led community engagement initiatives and large-scale outreach programs for local government. She has also directed office operations for a state elected official and spearheaded the creation of a customer service department for an online startup company. In her spare time, she is a member of the National Charity League, Inc. Riverside Chapter, a board member of the Riverside County Parks Foundation, and a board member of the Pick Group of Young Professionals. She's fluent in Spanish.
Directora de Programas de California
Josaline Cuesta administra la ejecución de los programas e iniciativas de Small Business Majority en todo el estado de California en colaboración con el equipo de California. Además, ella dirige la oficina de la organización en el sur y el valle central de California y desarrolla y fomenta relaciones sólidas con organizaciones comerciales, organizaciones comunitarias y legisladores. Josaline se desempeña como miembro del Grupo de Trabajo bajo la Oficina de Desarrollo Comercial y Económico del Gobernador de California (EEMTF por sus siglas en inglés). Ella también es miembro del Consejo de Coordinación para el Crecimiento y la Oportunidad Económica de Inland (IEGO) y es codirectora del grupo de trabajo sobre políticas de CA FWD's Entrepreneurship and Small Business Ownership by People of Color.
Antes de unirse a Small Business Majority, Josaline trabajó en el sector público y privado durante casi dos décadas. Más recientemente, Josaline dirigió iniciativas de participación comunitaria y programas de extensión a gran escala para el gobierno local. Ella también ha dirigido las operaciones de la oficina de un funcionario electo estatal y encabezó la creación de un departamento de servicio al cliente para una empresa startup en línea. En su tiempo libre, ella es miembro del capítulo Riverside de National Charity League, Inc., miembro de la junta de la Fundación de Parques del Condado de Riverside, y miembro de la junta Pick Group of Young Professionals. Ella también habla Español.
Use this form to contact Josaline: