National Women's Small Business Month Twitter Chat Recap
Tuesday, November 19, 2019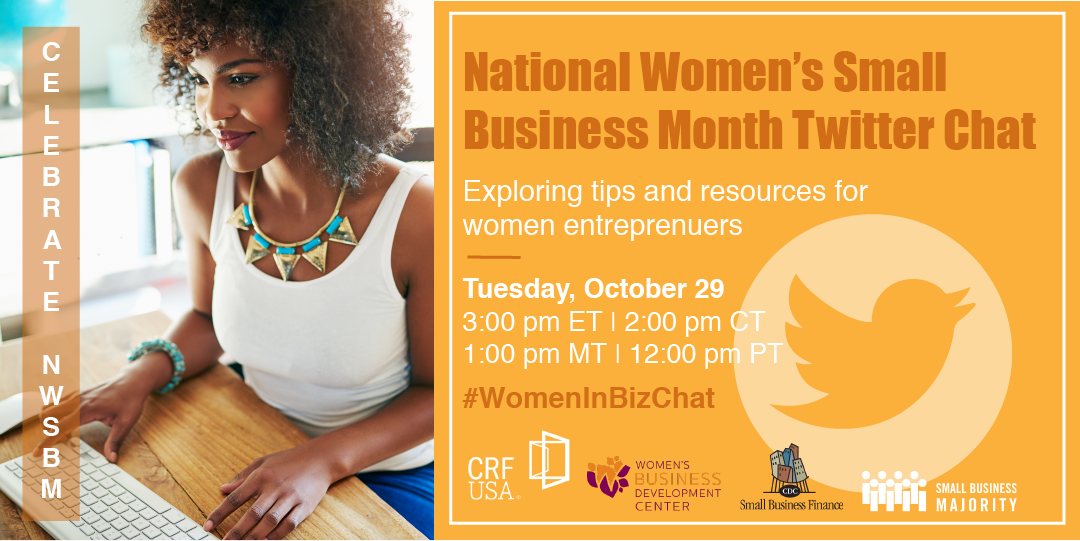 In celebration of National Women's Small Business Month, we co-hosted a Twitter chat with Women's Business Development Center (WBDC), Community Reinvestment Fund, USA (CRF) and CDC Small Business Finance to share resources and advice with women small business owners. 
Below is a brief recap of the questions and a sample of the great tips and information shared during the chat. For more resources and advice, visit our online portal Venturize.org.
Q1: Why is women's entrepreneurship so valuable to our economy and our communities? 
SheEO @Sheeo_world
If female entrepreneurs were financed to the same degree as their male counterparts, we'd create six million jobs in North America alone in the next five years. This is a huge economic engine we haven't even tried to engage. #WomenInBizChat
Accion @AccionUS
Women #entrepreneurs are the heart of our communities. They are founding their own ventures at 2.5X the national rate, employing more than 8M people nationwide. Last year, we funded 1,394 #WomenOwned businesses and supported over 7K with advising services. #WomenInBizChat #NWSBM
Q2: How and why should I register my business as woman-owned?
Connect2Capital @Connect2cap
The Women-Owned Small Business certification is a program coordinated by the Small Business Administration (@SBAgov) with the goal of giving women-owned businesses easier access to the resources they need to grow their business. #WomenInBizChat #NWSBM
Accion @AccionUS
#WomenOwned businesses can qualify for lucrative government contracts and there are lots of great resources online to help you register your business as woman-owned. Check out this article on our website on what to know: https://bit.ly/31SyMzs #WomenInBizChat  #NWSBM
Q3: What kind of loan programs are available for women business owners? 
Women's Business Development Center @WBDC
To generalize, 2 kinds: 1: @SBAgov provides financing through #banks. You don't go to #SBA, you go to your bank. 2: nonprofits in your community. #ChicagoBiz can check out https://bit.ly/2MQU77U.  Everyone else can check out https://www.sba.gov/local-assistance  
Small Business Majority's National Women's Entrepreneurship Manager Geri Aglipay @randomIntention
Peer-to-peer lending is a great option, but it takes careful planning. Work with an @ASBDC center to maximize the results and to learn about working capital position and products for your needs. #WomenInBizChat #NWSBM
Q4: Traditional lending can be stacked against women business owners. What are some responsible alternative lending options? 
Venturize @VenturizeOrg
A Community Development Financial Institution, or CDFI, is a great way for women #smallbiz owners to get their hands on secure & reliable capital. CDFIs have competitive rates and come with support and mentoring. Learn more: http://ow.ly/Xb2s50wWDEV #WomenInBizChat
Women's Business Development Center @WBDC
(1/2) Be wary of super fast, easy and online. Our friends @AccionUS have great advice.
(2/2) And let's not forget @Kiva_us which is a non-profit crowd lender, both in the US and internationally.
Q5: What are some of the best resources for women business owners to tap into? 
CDC Small Business Finance @cdc_loans
@ScoreMentors, SBDCs and WBDCs offer great business advising services. There's also free business coaching through non-profits, like us, to help you prepare for financing. Here's a list of coaching options and where to find them: http://bit.ly/free-sm-biz-coaching-tw. #WomenInBizChat
Venturize @VenturizeOrg
(1/2) For our Midwestern #smallbiz owners in the audience, we also recommend @WBDC who has a number of resources for women small business owners including mentors, help with certifications and veteran services. Check them out: http://ow.ly/pY8J50wWDFT #WomenInBizChat
(2/2) @AWBC_USA has over 100 Women's Business Centers (WBC) across the country. Your local WBC can connect you with events, networking opportunities and more. Check them out: https://awbc.org #WomenInBizChat
Q6: Is your organization or business doing anything special to celebrate National Women's Small Business Month that you'd like to share? 
Accion @AccionUS
We love to spotlight #WomenOwned businesses! For example, Accion in San Diego celebrated our 25th anniversary at the beginning of the month and we awarded the Accion-funded #WomenOwned business Luna Norte with the Entrepreneur of the Year award. #WomenInBizChat
Connect2Capital @Connect2cap
We're committed to women-owned small businesses every month! Women-owned businesses comprise 45% of the small businesses @Connect2Cap has matched with partner lenders in the last four years. http://ow.ly/KmUU50wWIJf  #WomenInBizChat #NWSBM