Meet our Outreach Team: Josaline Cuesta
Wednesday, August 25, 2021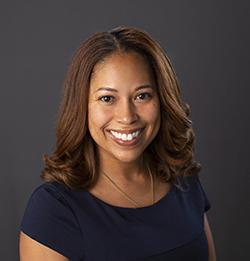 Small Business Majority's Outreach Team advocates for entrepreneurs on two fronts: It supports policies that would benefit small firms, and it offers workshops and events that help small business owners grow their companies. We have found this work to be even more important during this global health and economic crisis.
This week we are spotlighting Josaline Cuesta, Small Business Majority's Senior California Program Manager and Southern California Outreach Manager.
Q: Could you tell us about your position at Small Business Majority?
I manage the execution of Small Business Majority's programs and initiatives throughout the state of California in collaboration with the California team. Additionally, I direct the organization's Southern California office and develop and foster strong relationships with business organizations, community organizations and policymakers.
Q: Can you tell me a little bit about your background? What were you doing before you came to Small Business Majority? What brought you here?
I worked in local and state government for 10 years prior to joining Small Business Majority. I have volunteered and served on various boards for nearly 20 years, mostly on issues related to youth and education. I love helping people get to where they need to be, to reach their goals and succeed. When small business owners succeed, we all succeed. Small business owners are community members, leaders, and families. They are at the heart of our community and the foundation to a successful economy. I joined Small Business Majority because I am committed to sustainable economic growth, people, building trust, community and leadership to effect positive outcomes.
Q: How do you work to support small businesses in your local community?
I love volunteering in and supporting my community. Supporting small businesses improves our community and keeps dollars circulating within our local community.
When I think about the value of small businesses in our neighborhoods, I think about the impact they have on our community and families. Before moving to California, I used to frequent a family-owned bakery in Florida. I loved spending my mornings there; it's the bakery where my toddler had her first taste of Cuban food and the first place I ran to when she took her first steps. It's where I studied for finals and where I received advice on my resume. Even after I left, I sent photos and letters back updating on how our family was doing. That is why I support small businesses in my community, as they are an integral part of our community and quality of life.
Q: What is your favorite part about working at Small Business Majority?
My favorite part is the people I work with―their excitement and passion are contagious and inspiring. I love our team's unwavering dedication to supporting and elevating small business owners throughout the country.
Q: What have you learned in your first few months that you wish you could tell all small business owners?
I was astonished at the economic inequities to accessing capital, especially for minority-owned and women-owned businesses and those located in hard-to-reach areas. I want business owners in my region to know that there are tools and resources to increase access to capital that are available to them and that I'm here to support them on their road to success and recovery.
Q: What goals do you hope to accomplish in your first year at Small Business Majority?
My goal is to build and foster strong relationships with entrepreneurs and small businesses in my region. Small businesses have been one of the hardest-hit communities during the pandemic. My hope for this year is to support and help small businesses recover and build a resilient and sustainable business model.