Entrepreneur races past the competition
Friday, March 23, 2018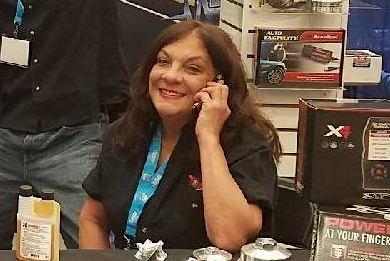 Miami-based entrepreneur Vivian Machado is blowing by the competition with her popular performance modification services for Ford, Chevy and Dodge trucks.
Vivian, who came to the United States from Cuba when she was just one year old, opened what is now her very own performance modification and full-service auto shop, Quick Tricks Automotive, in December 2009. With the help of her business partner, Rene Perez, what started as a hobby turned into a full-time job and opportunity for this small business owner to take control of her career and be her own boss.
Vivian earned an associate degree in psychology, a bachelor's degree in computer science and took a post-graduate course in paralegal studies, but decided to explore unrelated career pursuits. Most recently, Vivian worked in the compliance department of the Hewlett-Packard Company.
"I never worked directly in any area I studied, but I am sure it has all helped me get to where I am today," said Vivian.
In the early 2000's, Vivian and her then-husband would spend time participating in their favorite hobby: racing diesel trucks. Her then-husband was an auto mechanic, and thanks to his background and their shared interest in racing, Vivian began learning to write what is known as "tunes" for her vehicles. Tuning is the process of re-programming the code in a car's base computer, allowing for the manipulation of various aspects of the vehicle's performance like horsepower or fuel efficiency.
"People would come to my house after work and ask me to tune their trucks," said Vivian. "It was a luxury to work with different vehicles and try different things."
In 2004, Vivian wrote a program that would launch her business: the "Looney Tune."
"The name came from one of our races where someone made the comment, 'Oh my god that's a looney tune,' and the name stuck," said Vivian.
The "Looney Tune" adds an additional 160 rear-wheel horsepower, and it quickly became famous within the racing community. Once that happened, Vivian got requests for the "Looney Tune" from all over the country, so she took a job waiting tables to give herself a flexible schedule and more time to work on trucks. In 2009, Vivian opened Quick Tricks Automotive and has been in the tuning business ever since. With the help of Rene, an auto mechanic who spent 23 years at Ford Motor Company, Vivian's warehouse provides customers with high-performance parts, a full-service auto shop, custom tuning, tuning equipment and of course the "Looney Tune."
"We offer not only a good tune and a good product, but we help you fix your truck too," said Vivian.
This business is now a family affair, employing not just her children and grandchildren, but Rene's children as well. Vivian attributes a great deal of her success to her family's involvement, and she is grateful her company allows her to spend time with the people she loves while doing what she loves.
"I would not be able to do much if I could not count on my family completely," said Vivian.
Over the years Vivian learned owning a small business comes with challenges, but even so she is on the fast track to success.
"Nothing is easy to do, but owning your own business has its perks," she said.